Late Night Highlights: Tina Fey Blacks Out on Emmy Night, Leno Solves the I'm Still Here Mystery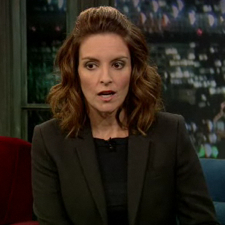 Fall premiere week is exciting for everyone, especially late night audiences who get to see their favorite primetime stars pass through the P.M. talk shows. Last night alone, Tina Fey told Jimmy Fallon about how she blacked out with Jon Hamm at this year's Emmy parties, Modern Family's cast discussed getting into bed with George Clooney, Snooki taught David Letterman how to fist pump, Ed Helms premiered a new Office dance sequence... and completely unrelated to television, Jay Leno got to the bottom of the I'm Still Here controversy.
5. Dave Fist Pumps
When Jersey Shore starlet Snooki stopped by The Late Show, she taught David Letterman about everything from fist-pumping to smooshing. Poor Dave.