Dancing with the Stars Elimination: Bomb Drop!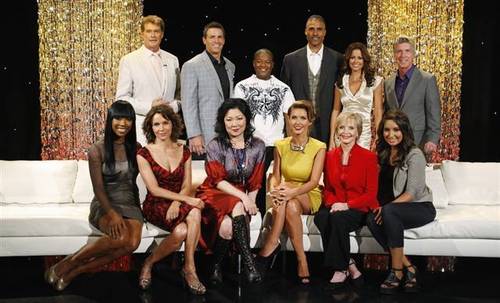 Dancing with the Stars's first elimination is always such a divine embarrassment. What compares to the moment when an oiled-up pseudo-celeb stands under a spotlight, congratulates himself on his "spirited" cha-cha-cha, and listens just long enough to hear Tom Bergeron fire his ass? Well, I enjoyed it. Now that the first loser has been declared, let's re-watch his/her routine once more and figure out where it went wrong.
Hasselhoff, you dog! Though kid star/prodigy/whatever Kyle Massey was also paired with the Hoff in the bottom two, Knight Rider drove to an early demise last night. We can safely say three problems led to his untimely dismissal. Look, a list:
1.) He's dressed like Jo Anne Worley here, and not even Laugh In Jo Anne Worley. He's bringing back "$25,000 Pyramid guest-star in 1988" Jo Anne with those sparkles and slacks. No doubt his partner Kym Johnson adopted a Ruth Buzzi persona in the parking lot and slapped him several times with her chunky purse.
2.) He's dancing around like I imagine Jo Anne Worley would, and not even Laugh In Jo Anne Worley. He's bringing back "Wizards of Waverly Place guest actress" Jo Anne, and excuse me, Hoff, that Jo Anne is still around today. She is still kicking and sparkling. Karkling, as we say in the biz.
3.) The "Sex Bomb" was defused in 1995.
We'll miss you, Hoff!