CBS Releases Condescending DVR Instructional For 'Sophisticated' New $#*! Comedy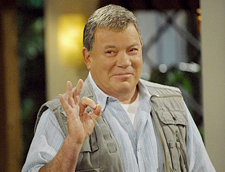 Everyone can dial down their DVR alarm this morning: After The Live Feed pointed out yesterday that $#*! My Dad Says' symbol-heavy title does not particularly make for easy DVR-ing, CBS has issued a step-by-step memo to help less technologically experienced viewers through this difficult time.
Herewith, the most important passages from the recent memo:
We have a new show premiering this Thursday at 8:30 PM, ET/PT, called $#*! MY DAD SAYS. It's a unique title for a unique show based on a very popular Twitter feed. In fact, the title of the show is so sophisticated that it's perplexing some DVR search functions that can't read some symbols.
If you'd like to record $#*! MY DAD SAYS from your DVR, we recommend activating the "record" function by going directly through the program guide on your cable or satellite system. Our research shows most viewers record in this method; but, if you're one of the few who have had issues with the DVR search function for this show, this alternative offers an easy solution.
Everybody clear on the instructions? You probably are and if you aren't DVR-proficient enough to know how to record a show, let's face it: you probably aren't going to be tuning into CBS's new sitcom based on a Twitter feed anyway. Respectable effort, though, CBS.
· CBS issues DVR Instructions For $#*!' [THR/The Live Feed]