What's On: Glee-for-All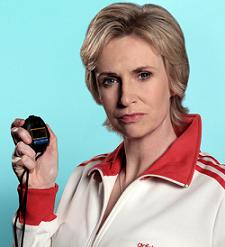 We're in for a freakishly resplendent season of Glee, complete with insane cameos (Gwyneth Paltrow, anyone? Barry Bostwick, anyone?) and more romance, melodrama, and harmony than a Fleetwood Mac coke bender. Elsewhere on TV, Detroit 1-8-7 proceeds with procedural flair, The Biggest Loser gets educational, and Dancing with the Stars loses a star.
Glee [Fox, 8 PM]
These damn McKinley High matriculants are still reeling from their loss at Regionals. Those losers. With school budget cuts looming, two new members join the club: Sam (Chord Overstreet) and Sunshine Corazon (Charice). Rachel and Finn aren't sure what to think of them because Rachel is unlikable and Finn isn't sure what to think ever. Hose 'em all, Sue Sylvester. Stick around after for the debuts of Raising Hope (Cloris Leachman, never change!) and Running Wilde (Keri Russell, you've changed!).
Detroit 1-8-7 [ABC, 10 PM]
This drama about Detroit homicide detectives debuts with two grisly cases: a double-homicide at a pharmacy and the strange murder of an attorney. Michael Imperioli and Jon Michael Hall play the hard-bitten lawmen who investigate the pharmacy case, and James McDaniel and Shaun Majumder deal with the attorney. Let's see some badges!
The Biggest Loser [NBC, 8 PM]
Jillian Michaels and Bob Harper kick off the tenth season by initiating community-wide challenges in a number of cities. It's part of the show's "Pay it Forward" theme this season, and I was just thinking this show needed to incorporate more terrible Kevin Spacey/Haley Joel Osment filmography.
Dancing with the Stars [ABC, 8 PM]
The first elimination show concludes with performances from Daughtry, Santana, and India.Arie. But who's going home? I'd hate to pick the wonderful Margaret Cho, who suffered at the mercy of bad choreography, but she scored the lowest and won't garner as many call-ins as The Situation or David Hasselhoff. I wish those divas would drop dead, so to speak.