REVIEW: You Will Meet A Tall Dark Stranger Is Minor Woody Allen, But Still Makes Some Noise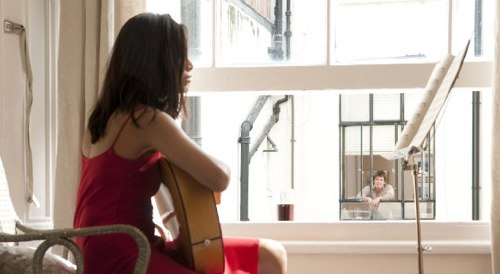 In a recent interview, Woody Allen was asked to explain (or was it defend?) his prodigious output: roughly one movie written and directed a year since 1969. Part of the frustration with Allen, now in the thick of his 70s with no signs of slowing (maybe he could explain his vitamin regimen next time), is the number of filler or half-formed films that he makes, the ones that never ferment into anything memorable, ending up as disappointing interstitials between films like Match Point and Vicky Cristina Barcelona. "I have a lot of ideas," Allen said. "Some of them are good, some of them are less good, and I just make them."
Allen's latest, the slender social caper You Will Meet A Tall Dark Stranger, is minor but still quite enjoyable. And like other minor Woody Allen pictures it becomes more interesting when placed in their larger context: It's fascinating to watch an artist grapple for as long and as consistently (you might say as compulsively) as Allen has, and with as impressive a troupe of players as he's assembled, with his pet themes of mortality, identity, and moral relativism. Sometimes the films sing, sometimes they grate, but they're always stubbornly making noise, year in and year out. The last decade's uneven roster in particular has amassed, by virtue of its sheer, committed numbers, a choral force that some of the lesser entries could not manage alone.
Each of the major characters in Stranger looks his or her mortality in the face and does what any reasonable person would do: flinch. Alfie (Anthony Hopkins), a soft-spoken, successful London businessman who should be resting comfortably in semi-retirement, woke up one morning and realized that he too must die. His whole life flinched, and his wife of 40-plus years, Helena (Gemma Jones), was shed in the process. "There's longevity in my genes," he says, attempting to convince anyone who will listen that his best years are ahead of him. Implied in that hope is that his best sex is ahead of him as well, and to that end he wastes little time (i.e., a few crummy dates) before going straight for the source. After hiring a daft, careering, seriously built prostitute named (or more likely re-named) Charmaine (Lucy Punch), he makes an honest woman of her and a fool of himself.
If Charmaine's body is Alfie's salvation, the prim, lattice-gloved Helena takes the metaphysical route, finding religion by way of the neighborhood psychic, Cristal (Pauline Collins). Desperate to re-impose some order on her life, where Alfie attempts to capture some alternate version of the past, Helena focuses ardently on the future and follows Cristal's prognostications to a fault. Helena's daughter, Sally (Naomi Watts), and particularly Sally's husband, Roy (Josh Brolin), grow exasperated with her tea-and-crumpets mysticism (though when Helena says she'd like "something to sip on," what she's angling for is whiskey), and the latter two spar like sitting-room gladiators.
Pages: 1 2