Kill Time at Work with NSFW Howl Obscenity Game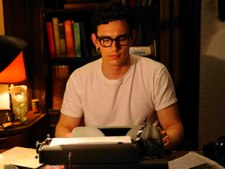 Oscilloscope has posted a new user-generated game connected to Friday's release of Howl that tells you just how obscene you are. The experimental biopic stars James Franco as Beat poet Allen Ginsberg, whose famous poem of the same name provoked an obscenity trial in 1957. But that was then. Check out what people find obscene in the new millennium after the jump.
The Howl game, Are You Obscene?, offers a number of phrases and topics, asks you to rate whether you find them obscene and then compares your score to that of other players. Topics run the gamut, from "owning more than four pets" to abortion to Straw Dogs. The front runner to date? Pedophiles. You can also submit your own topic or phrase and see the percentage of users that rate it obscene, which should be interesting given the stats so far. Currently, the cost of college has a higher obscenity rating than hitting children. Most likely, these topic cards will get less and less safe for work as the day progresses. You've been warned.