Chris Colfer Checks in with Movieline about Glee's Second Season, Enya, and His Favorite Scene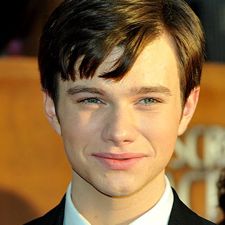 For a droll 20-year-old with an old-fashioned sense of poise and wit, Chris Colfer is a surprisingly great fit on TV's most up-to-date phenomenon, Glee. The Emmy nominee stopped and chatted with us about shooting the series' second season, his picks for the Super Bowl "mystery artist" episode, and his favorite film scene ever.
Obligatory question: Who do you want the Super Bowl episode's mystery artist to be? Whose catalog would be best?
I kind of hope it's Andrew Lloyd Webber, but that's just me personally.
I mean, he's an "artist," yes, but I'm sure we're talking about recording artists here, right?
That's a good point. I mean, I hope Michael Jackson. That'd be good.
I talked to Mark Salling briefly and he suggested Radiohead.
Radiohead? Really? No. That's interesting.
I don't know how that'd work out.
I don't either. No. But it could be Enya! Wouldn't that be great?
She might need more international hits before that can happen. Now: There must be a world of difference between shooting the first and second season, if only because your massive viewership expects such quality.
It went to full steam, right? It's crazy to think about because the show is such a huge phenomenon -- I mean, six months ago we were still in this Glee bubble hoping and praying it would do well. It's still the little show that could, you know?
Glee is an unusual show, and there's still nothing else like it in primetime. Where can you hope such an unusual show will launch you later?
Oh God! It gives us such a huge platform. They really let us a show a lot of what we can do. I mean, how often will I be able to sing, dance, and act on television? Hopefully we'll have successful careers after this, like the cast of Freaks and Geeks. I hope it pushes us in the directions we want to go.
Is there anyone whose career you'd like to model yours after?
You know, not really, no. There's really never been anyone that has done what I really want to do.
And that is?
Well, I would love to get behind the scenes -- but stay on screen as well.
Speaking of scenes, we do a feature at Movieline called "My Favorite Scene" where we ask you what your favorite film scene is of all time. Do you have a favorite movie scene?
I probably could give you a good answer in, like, an hour. Oh God! What's my favorite movie? But here: In Notes on a Scandal --
Incredible answer already.
Thank you. But when Cate Blanchett and Judi Dench go at it? That's pretty brilliant. But of course there's typical answers like Shirley MacLaine yelling, "Get my daughter her shot!" Things like that.
Don't worry, Notes on a Scandal was the correct answer.
OK, good.
[Here's one of the many dust-ups between Blanchett and Dench in Notes on a Scandal.]