What's On: Dancing with the Stars Returns with Jazz Hands Aplenty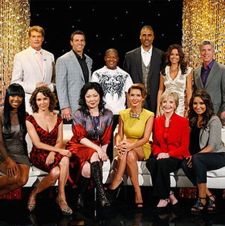 There's no reason to seek out movies on TCM tonight, kids. Premiere week kicks off with many new series and the return of at least one old, ghastly favorite. Attentive Movieline readers already know about Mike & Molly, but there's also deception (Lone Star), intrigue (The Event), hard bodies (Hawaii 5-0) and freakish glitz (Dancing with the Stars) pervading the airwaves. Click ahead for your guide to What's On.
Dancing with the Stars [ABC, 8 PM]
Season 11's going to be a competitive one: The Situation, Florence Henderson, Jennifer Grey, Margaret Cho, Bristol Palin, Audrina Patridge, and Michael Bolton alone will provide ample ferocity. Then you throw in David Hasselhoff and all bets are off. I think Margaret Cho, with her very momentary burlesque career behind her, is still a sleeper favorite.
The Event [NBC, 9 PM]
NBC's new mystery drama concerns two seemingly disconnected stories. Sean Walker (Jason Ritter) looks into the disappearance of his girlfriend Leila (Sarah Roemer). Meanwhile, the president (Blair Underwood) defies orders and decides to release a group of detainees (led by Movieline's new friend Laura Innes). I'll recap all the sinister-ness tomorrow, folks.
Hawaii 5-0 [CBS, 10 PM]
Get ready to have that incessant theme song stuck in your head for the next month. CBS reboots Hawaii 5-0 tonight with Alex O'Loughlin as Steve McGarrett, Scott Caan as Danno and Daniel Dae Kim as Jin Det. Chin Ho Kelly. Book 'em, etc.
Lone Star [Fox, 9 PM]
A con-man (James Wolk) tries to go straight while maintaining the two identities he's forged during his life of deception. Life or Something Like It fan Jon Voight is a standout as an old-timey oilman. This is your best bet for an Emmy newcomer; you're old news now, The Good Wife!