Megan Fox, Will Ferrell Headline 6 More Toronto Films Coming Soon-ish to a Theater Near You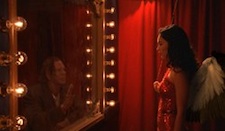 You're forgiven if you feel like you're in some sort of film industry time-warp today. First Ben Affleck won the box office, and now distributors at Toronto have just made another huge round of distribution deals on independent films. Does this mark a return to the lost days of devil-may-care acquisitions and bidding wars at festivals? Or will all of these movies flop and pave the way for a completely desolate marketplace at next year's festivals? Check out the full list of recent buys after the jump and decide for yourself! This time we've got an evil Santa Claus, Megan Fox with wings, Will Ferrell giving drama another shot -- and more.
The Film: Beginners
The Distributor: Focus Features
What is it? Ewan McGregor can't stop sabotaging his promising new relationship because of hangups about his deceased parents, especially his father (Christopher Plummer) who came out of the closet late in life. Mike Mills (Thumbsucker) writes and directs. (Read Movieline's festival review here.)
Release Date: Not announced, possibly late Spring 2011
[Deadline]
The Film: Everything Must Go
The Distributor: Lionsgate and Roadside Attractions
What is it? Will Ferrell gets serious in this adaptation of a Raymond Carver story about a relapsed alcoholic who sells all of his possessions in a yard sale after losing his job and his wife. The Carver short story Why Don't You Dance? is fantastic, but it's also short. It will be interesting to see if Ferrell can carry a feature-length version and if audiences have warmed to the idea of him departing from comedy.
Release Date: Unknown
[Deadline]
The Film: Passion Play
The Distributor: Image Entertainment
What is it? Mickey Rourke plays a down-and-out jazz musician on the lamb from a mob boss played by Bill Murray. He finds what he thinks is salvation when he falls for a winged-woman at a carnival sideshow. Not just any winged-woman, but a winged Megan Fox. Director Mitch Glazer and wife Kelly Lynch spent nearly two decades trying to bring the fantasy-drama to screen.
Release Date: Unknown
[Deadline]
The Film: Peep World
The Distributor: IFC Films
What is it? A group of siblings who gather for their father's 70th birthday are forced to confront a novel published by the youngest that reveals all of their family's secrets. Barry W. Blaustein directs this ensemble piece starring Sarah Silverman, Rainn Wilson, Ben Schwartz, and Kate Mara.
Release Date: Unknown
[Deadline]
The Film: Meek's Cutoff
The Distributor: Oscilloscope
What is it? Critical darling Kelly Reichardt again collaborates with Wendy and Lucy star Michelle Williams in this Western about a group of families crossing the Cascade Mountains in a wagon train. The families find themselves in a struggle for survival after their guide Stephen Meek leads them astray. Read Movieline's festival review here.)
Release Date: Sometime in 2011
The Film: Rare Exports: A Christmas Tale
The Distributor: Oscilloscope
What is it? In this bizarre fairy-tale nightmare, a small Finnish village unearths the real Santa Claus after most of the town's children go missing. Turns out this Santa brings gunfire and violence instead of presents. But will it be as terrifying as Silent Night, Deadly Night?
Release Date: U.S. debut at Fantastic Fest in Austin, followed by a release in time for the holidays