Watch Betty White Curse, Pretend to Run a Sweatshop in Her Latest Viral Video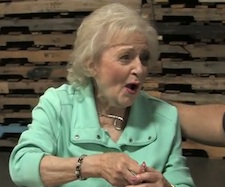 Further proof that Betty White will literally do anything (and that the Internet will love her for it anyway): The You Again star -- who will also be seen this week on the season premiere of Community -- has her own clothing line. (Yep, this is real.) White partnered up with HoodieBuddie.com for the merchandise (proceeds go to the Morris Animal Foundation) and, naturally, a viral video has been released trumpeting this marriage. Have you ever wanted to see White refer to her breasts as the "Golden Girls"? Then click ahead to watch.
"I've had poker hands fold better than you." Heyoo! Try the veal.
[via urlesque]