David Letterman Was In On Joaquin Phoenix's I'm Still Here Gag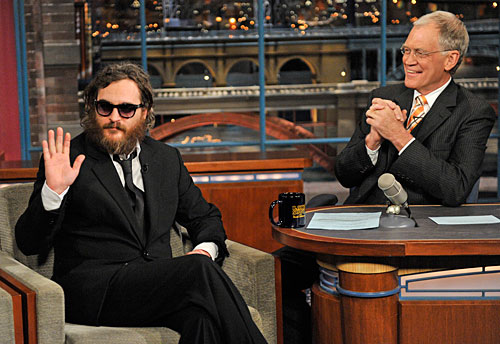 If you can't trust your late night talk show hosts, who can you trust? Hot on the heels on director Casey Affleck's admission that I'm Still Here isn't really a documentary of Joaquin Phoenix's descent into Amish-bearded madness, it's been revealed that David Letterman was in on the hoax as well.
By now, Phoenix's gum-chewing, stupefied visit to the Ed Sullivan theater is the stuff of late night legend. Giving terse, mumbly answers and concentrating more on his gum than the show, Letterman gleefully skewered the Oscar-nominated oddball. But now Bill Scheft, one of his writers, says that Dave was a willing and able participant in the sham:
Dave knew about it and Dave loved it because he could play along. It was great television. But I will take credit for the line, 'I think I owe Farrah Fawcett an apology.' That line was mine. I gave that to him during the break. I've told people that [everyone was in on the joke], and not only don't people believe me, they tell me that I'm wrong and that [Phoenix] is a schizophrenic and he needs help and he's going to end up like his brother [River, who died of a drug overdose in 1993]. I said no. I saw the segment notes. It's an act. I saw Ben Affleck's brother taping the whole thing from offstage.
I don't think this diminishes how hilarious the interview is -- funny is funny, after all -- but the next time some weirdo starts lolling his or her head around, seemingly to be looped out of their gourd, I'm going to keep an eye out for Casey Affleck and his camcorder. Check out the original below.
· I'm Still Here: David Letterman Was in on It Too [/Film]