What's On: Bill Maher Hamms It Up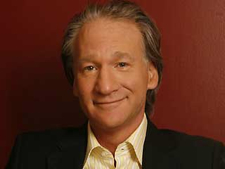 The lovable Bill Maher welcomes a distinguished panel to his show tonight, including our favorite upcoming three-time SNL host. Elsewhere on TV, Gangland gets dark, Four Weddings gets chipper, and Robert Redford moseys to a Burt Bacharach tune.
Real Time with Bill Maher [HBO, 10 PM]
The 22-time Emmy loser welcomes Michael Moore, economist Robert Reich, the ever-happenin' Jon Hamm, reporter Martha Raddatz, and political strategist Mark McKinnon. Every time I hear Maher's name I think about what a good rapper moniker "Religulous" would be.
Four Weddings [TLC, 10 PM]
One sensible bride wrangles some samba dancers for her nuptials, and another believes her edgy gown will make her a star. And then Paige Davis arrives, gives the brides keys to each other's wedding, and forces them to wed the wrong husband! No? Sorry, I dream sometimes about conflating all TLC programming.
Gangland [History, 10 PM]
The History Channel series about gangs and gang culture explores the "Valley of Death." I swear this show is more terrifying than anything on the SyFy or even Bravo.
Butch Cassidy and the Sundance Kid [FMC, 8:22 PM]
Paul Newman and Robert Redford win the hell out of your hearts as the famous outlaws. Burt Bacharach's Oscar-winning song "Raindrops Keep Falling on My Head" aids the matter. Redford's dreaminess is only outmatched by his own performance in All the President's Men where he dons beige suits and gets journalistically serious with us. Still, this movie is fab.