Weekend Forecast: Will Easy A Have an Easy Run Over Ben Affleck and the Devil?
Don't look now, but there are 33 titles experiencing a new release today in either New York or Los Angeles. Some among them are opening wide, others have a slightly more limited roll-out to other cities, and some are merely stopping over on their ways to DVD. Ready or not, we've hit the fall movie season. Read on for Movieline's weekly box-office and new-release roundup.
NATIONAL OUTLOOK
· Easy A: Emma Stone's a winner, and so, apparently, is her loose (ahem) updating of The Scarlet Letter in an American high school. Some critics (including Movieline's own Eric Hynes) are a little more enthusiastic about the results than others, but the bottom line is that Screen Gems has placed its PG-13 John Hughes throwback just about perfectly to triumph in a congested weekend where there is literally something for everyone. FORECAST: $22.4 million (See Movieline's full review here.)
· Devil: "From the mind of M. Night Shyamalan..." Laugh all you want (you'd hardly be the first), but the guy's name sells tickets, and this story of five people trapped in an elevator because one of them happens to be some kind of hell-spawn is also primed well for a good opening run. And moving past the brand, despite the no-advance-screening policy from Universal, Devil looks like it might actually be the tense thrill ride it promises. Or maybe I'm just a sucker. The point is I'm not the only one. FORECAST: $19.9 million (Movieline's full review forthcoming today.)
· The Town: High-five to Ben Affleck, who has painstakingly climbed his way back from Bennifer purgatory through smart supporting roles and a tandem of well-received directorial efforts. The Town appears to be his triumph, about a bank robber (Affleck), the teller he falls in love with (Rebecca Hall) and the FBI agent (Jon Hamm) determined to bring him down. It's a smart thriller for adults, which is a mixed blessing -- Lord knows we need one after the last month (the moody American notwithstanding), but the R-rating will cost it at the box office. Big deal; it's legs should more than make up for it. FORECAST: $18.5 million (Movieline's full review forthcoming today.)
STORM WARNING
· Alpha and Omega: How do you conceal the milky, affectless mook at the heart of your 3-D family feature that's been years in making? Animate it, of course! Justin Long and Hayden Panettiere contribute their voices to the story of two lost wolves on a journey back to their pack; romance ensues, etc. etc. I didn't even know this was coming out before Long's late-night appearance this week; parents and kids haven't shown much of an inkling either. If only they were werewolves. FORECAST: $7.2 million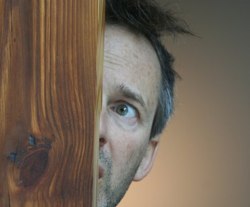 THE PRIME DESTINATIONS
· Lovers of Hate (LA): One of the last and best titles I saw last January at Sundance, writer-director Brian Poyser juggles microbudget drama with a love-triangle thriller with a pitch-black comedy about a self-pitying schlub (played by Alex Karpovsky) who stalks his ex-girlfriend to her snowy Park City getaway with his successful author friend. His systematic sabotage of their stay -- not to mention his creative eluding of the suspicious couple -- makes for one of the most oddly gripping and surprising films of the year. It's definitely the date movie of 2010, assuming your date is adventurous and slightly sadistic.
· On the Bowery (NYC): Lionel Rogosin's lean, restored 1957 masterwork is exactly what it sounds like: A semi-documentary glimpse of life on one of New York's most downtrodden strips of real estate. From the shadows of the extinct Third Avenue El and the smoky half-light of bars where pocket change would send patrons reeling into days, weeks, lifetimes of oblivion, Rogosin delivers a piece as visually captivating as it is anthropologicially essential. Remember these fellas next time you head down to the Bowery for your $12 martini: They were there first.
REGIONAL OUTLOOK
· The Anchorage (NYC): Swedish import about a woman growing increasingly aware (and dreadful) of other people's encroachment on her quotidian island residence.
· Catfish (limited): You've read the takedowns, now see it for yourself: Henry Joost and Ariel Shulman's chronicle of one man's tumble down the social-media rabbit hole. Is it real? Is it fake? We'll never know -- but as exploitation flicks go, it's some kind of marvel.
· Chosin (LA): Wrenching documentary about American Korean War veterans' experiences in the bloody battles around the Chosin Reservior.
· El Superstar: The Unlikely Rise of Juan Frances (LA): An LA gringo makes his way as a mover and shaker in Latino culture. Having Danny Trejo as a stepfather can't hurt.
· The Freebie (NYC): Nifty, unpredictable drama directed by and starring Katie Aselton as a wife who attempts to spice up her marriage to Dax Shepard by agreeing to open it up to other partners for a night.
· Gasland (NYC): Josh Fox's shocking documentary about the natural-gas racket and the communities it's polluted, devastated, threatened and/or doomed via "fracking" -- i.e. drilling in and around shale basins. You haven't lived until you've seen tap water lit on fire.
· The Girl (NYC): Another Swedish import, this one chronicling the titular character in her coming-of-age while her drunken aunt neglects her and her naivete about her small-town surroundings gradually falls away.
· The Happy Poet (NYC): Winning indie dramedy about an MFA student who makes a radical left turn into organic food-cart proprietorship. No, really.
· Heaven's Rain (LA): A pair of grown siblings struggle to get out from under the emotional burden of their parents' murders.
· Hideaway (expanding to LA): Prolific writer/director Francois Ozon trails a pregnant woman through her lover's drug overdose and subsequent relationship with his gay brother.
· Jack Goes Boating (limited): Philip Seymour Hoffman stars with Amy Ryan in his directing debut. (Movieline's full review forthcoming today.)
· Kings of Pastry (NYC): DA Pennebaker and Chris Hegedus trail a handful of chefs contending for the highest distinction in French pastry: The hallowed MOF collar designating the Best Craftsman in France.
· Last Day of Summer (limited): Gunman DJ Qualls takes Nikki Reed hostage after a lifetime of humiliations and underachievements.
· Last Train Home (expanding to LA): Acclaimed doc about the mass migration of workers (130 million!) from Chinese cities and factory centers to their rural homes.
· Leaves of Grass (limited): Edward Norton's disappointing, delayed mistaken-identity comedy about a professor, his white-trash twin brother (both played by Norton) ensnared in a high-end pot-cultivation ring. (Movieline's full review forthcoming today.)
· Lovely, Still (expanding to LA): Ellen Burstyn and Martin Landau have a December-December relationship -- literally, like during Christmastime.
· Never Let Me Go: Excruciatingly tasteful, inconsistent, mopish and maudlin adaptation of Kazuo Ishiguro's celebrated novel. (See Movieline's full review here.)
· Music Makes a City (NYC): Who's up for a documentary profiling the cultural history of Louisville, Kentucky's hopping music scene? Anyone? Hello?
· One Hundred Mornings (LA): Impressive, tiny Irish drama about two couples outlasting the apocalypse (and its other, less scrupulous survivors) in a cabin near Dublin.
· The Other City (NYC): Documentary profiling the epidemic of HIV/AIDS in Washington, D.C.
· Picture Me (NYC): Cheap-looking, meandering and roundly icky documentary about a young woman's ascendancy through the ranks of professional modeling.
· Skirt Day (LA): Isabelle Adjani returns to school as a teacher who delivers the ultimate lesson to her lazy, underachieving students after finding a gun in her classroom.
· Sweethearts of the Prison Rodeo (NYC, Austin): Bradley Beesley's acclaimed doc portrait of the first women allowed to compete in the titular, decades-old Oklahoma event.
· The Temptation of St. Tony (NYC): Estonian mind-blower (in gorgeous black and white) about a man's discovery that being good really isn't all its cracked up to be. And honestly, being bad isn't much better either. Utterly insane.
· 3 Billion and Counting (NYC): Documentary explores the rapidly growing (and devastatingly lethal) scourge of malaria in the third world -- and the radical cure that can be found in a banned pesticide.
· Who is Harry Nilsson (And Why is Everybody Talkin' About Him?) (expanding to LA): Intimate documentary about the iconoclastic singer-songwriter's rise, fall, passions, pursuits and following, which includes Brian Wilson and Yoko Ono.