So Where's the Buzz About Sam Worthington and Keira Knightley's TIFF Drama Last Night?
According an official count just released by the Toronto International Film Festival, this year's event spawned nearly two dozen U.S. distribution deals for selections including Super, Rabbit Hole, Cave of Forgotten Dreams, The Conspirator and Beautiful Boy -- with more to come in the days and weeks ahead. But one high-profile title in particular -- currently idling on Miramax's shelf -- has yielded exactly no industry buzz and a surprising dearth of discussion since its first screening nearly a week ago.
In fairness, Last Night is TIFF's appropriately named closing-night selection, so there's always the possibility that the real talk (and possibly, God willing, salvation from distribution limbo) will follow its official gala premiere on Saturday. Nevertheless, screenwriter Massy Tadjedin's directorial debut first appeared on Toronto screens on Sept. 12, where its impressive writing, visual command and generally strong performances left their mark on at least a few critics (including, well, me).
The film follows Michael and Joanna Reed (Sam Worthington and Keira Knightley), a young, affluent Manhattan couple nudged into marital discord when Michael takes a conspicuous liking to his comely colleague Laura (Eva Mendes) at a dinner party. Confronted by Joanna, Michael confesses his attraction but reaffirms his commitment to his wife, who's just overreacting on the eve of his overnight business trip -- with Laura and another coworker -- to Philadelphia.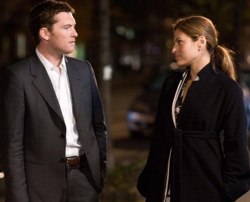 Or is she? Tadjedin spends her second act cross-cutting between Michael and Joanna's respective day apart: He's getting the sexy glances from Laura over dinner and drinks, while she -- a writer in the throes of professional inertia and not just a little suspicion -- welcomes the unexpected return of her French ex Alex (Guillaume Canet), who tracks Joanna down during his own brief NYC stopover. She agrees to drinks, which bleeds into dinner with Alex's own publisher (Griffin Dunne, probing and mining with those endlessly curious eyes), which bleeds into an afterhours odyssey of regret, confession and temptation. Which isn't far from how you'd classify the night Michael's having with Laura, just with more booze and an empty hotel swimming pool.
The narrative landmines are everywhere in this kind of material (you always hold your breath when cell phones become a plot point), but Tadjedin treads carefully on each of her parallel tracks. It's highly discursive stuff -- Before Sunrise meets Eyes Wide Shut would be the closest analog -- and almost to the actor, her naturalism finds its way to the screen. Knightley and Canet are an achingly beautiful pair, as captivated with each other as they are consumed with the encroaching heartbreak of their conditions -- one married, one single, both longing. Love is a terminal illness for these two, and they have hours to live. It doesn't hurt that brilliant cinematographer Peter Deming is doing the shooting, couching the duo in the kind of lush, noirish light that's practically synonymous with seduction.
Meanwhile in Philly, Mendes is game as always -- a smart, candid, determined, eminently flawed career woman who knows the imposition of her presence in Michael's life. She could conceivably take no for an answer, but she needs convincing. Alas, Worthington isn't that kind of actor for her or the audience; his Michael is successfully distracted by his commitments back home, but it's never clear if he's betraying that duty or even truly believed it in the first place. To believe in the severity of the act of infidelity, which Tadjedin would (though she never judges either spouse), one must first believe a relationship is at stake. The first act persuades that belief. The second, due largely to Worthington's stiffness and dispassion, falls short.
The third act, however, stands alone almost single-handedly by virtue of Last Night's will-they-or-won't-they dynamics -- part Euro-flavored romance, part suspense-thriller. It's elegant filmmaking at the very least; Worthington is again outclassed by his leading ladies, whose presences wield a morning-after softness that he tends to bruise with every other line. But the suppleness of Tadjedin's storytelling (the film clocks in at a mercifully lean 90 minutes) means no one character or performance can doom the enterprise. Like a jet with a bad engine, the ride is a tad fraught and the landing a little bumpy. But it gets you exactly where you want to go -- and in first-class, at that. Here's hoping other filmgoers have the chance to take the trip, and soon.