Project Runway Castoff Michael Drummond Spills on Ivy, Michael Costello, and Fashion Week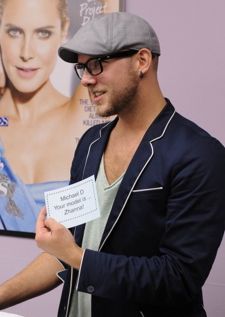 Michael Drummond was Project Runway's reliable quipper this season, popping out Crucible jokes and cat-skinning metaphors with major aplomb. In as interview with Movieline this morning, he was diplomatic enough to declare Andy, Mondo, and even Gretchen his choices to win the season, but I wanted to know about the less-lovable parts of his Runway tenure. Below, the St. Louis native talks about the challenge that got him eliminated, Fashion Week, and remaining cool when Ivy disgraced him in front of the judges.
Let's talk about the partner challenge where Ivy told the judges she had to compensate for your poor skills. Did that evisceration feel as vicious as it looked?
You know, it's really interesting because -- [sighs] -- so interesting. Ivy and I hadn't had a chance to really know each other. She was always on the other side of the room, and what we did know about each other was that we both spoke our mind. We have a level of honesty that can be maybe brutal. And she's a little less censored. I mean, I thought she had every right to speak her mind about my work. We come from different places.
I didn't feel like she was throwing me under the bus, but I also remember thinking -- because I was on the top for that challenge even though it felt like I was on the bottom [laughs] -- I just remember thinking I'm on national TV and I don't want to be perceived as or be a dick. So, you know, I told Ivy to stick up for herself because I didn't want her to go home. I did the best that I could for her. So I was not mad at what she was saying, because I believed in myself.
You defended Michael Costello this challenge when you said that even though he was less experienced, he was still a good designer. However, in an earlier challenge, you were dumbfounded that he didn't use a ruler. Is it bizarre to lose to someone who didn't have the foresight to bring basic design tools to Project Runway?
Well, actually, when I said that, it was in a joking way. What I was saying was there are many ways to make a dress. Like, you can drape it, you can cut it, you sew it, whatever. All these people were running around saying, "He doesn't know how to sew," but I was just saying, "You should probably bring, you know, a fricking ruler." With that said, I'm not mad that he outlasted me. I don't have any regrets. I feel like there's room for everybody in the world of fashion; his aesthetic isn't my aesthetic. I'm not really a jealous person.
You showed at Fashion Week last week with your "decoy" collection. I'm always curious about the contestants who have to show collections so that the public doesn't know who's been eliminated. Is that experience -- which has its huge perks, I'm sure -- at all bittersweet because you aren't competing to win?
No! You kidding me? I think it's most designers' dream -- or American designers -- to show at Fashion Week. So no way! We're exposed to the same amount of press that they are. We're held with the same regard for the most part. I'm [appreciated] more like anchovies and not potato chips, and I got great responses and absolutely awful ones. But I heard really wonderful things from people whose names I can't mention, [and] I think the NY Post called me a visionary, so I'm OK with that. To answer your question, no, it's not bad to show as a decoy. It's fabulous. You don't have the stress of the judges.