Buzz Break: Big Bang Theory's Even Bigger Hiatus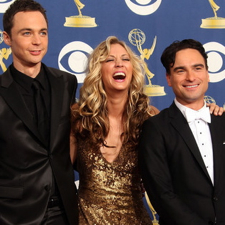 · The Big Bang Theory is extending its production hiatus following the leg injury Kaley Cuoco suffered while riding a horse. She's still expected to make a full recovery. Also in Buzz Break today, Oprah goes book clubbing, Jennifer Lopez's ex-husband rears his un-famous head, and America's Got Talent's champion touches us all.
· Jennifer Lopez's ex-husband Ojani Noa will be auditioning for American Idol. I'm sure it'll be un-embarrassing in practice, guys.
· Two writer-producers behind Brothers & Sisters sold a project to CBS about "a forty-five-year-old mom of three whose neurosurgeon husband kills himself, leaving her in financial ruin and forcing her to go back to complete the surgical residency she never finished, only now her oldest son is her supervising resident." It's supposed to be "emotional and funny." I, too, am confused.
· America's Got Talent champ Michael Grimm proposed to his girlfriend on Ellen.
· Oprah Winfrey has apparently forgiven Jonathan Franzen for his snooty comments about her book club, because she selected the author's Freedom as its newest selection. God added that Franzen is also welcome back into heaven.