Introducing the 'Survivor Loser Review': What Didn't Flow with Wendy Jo?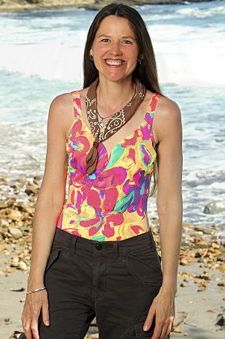 If you've watched any of Survivor's 19 previous seasons, you know its competitors talk mad sh*t, unleash defensive monologues at the drop of an Immunity Idol, and give the nuttiest confessionals in all of television (sorry, Kourtney and Khloe Take Miami), but most importantly, you know that Survivor's evictees often leave a trail of bad decisions about a mile wide. With that in mind, Movieline is beginning its weekly review of Survivor's castoffs, hoping to shed light on the soundbites, actions, and missteps that have led to their demise.
Even if Jimmy Johnson proved that, at 66, he wasn't as strong as he was in his Super Bowl-winning heyday, no one doubted that the tragically unaware, mouth-breathey Wendy Jo was going to go home. Here are her three weirdest and most damning quotes:
3. "I don't know if I'm naive. My brother calls me sheltered. I'm going to bite my tongue and hide my true self."
Forget that Wendy Jo couldn't figure out that "naive" and "sheltered" are pretty much synonyms. Let's discuss how she believed she could "hide her true self" behind her Temple Grandin hat and fringe while grinning like a kindly knickknack merchant from Lake Of The Earnest Smiles, Minnesota. Ironic that she would fare so terribly when competing in the humane killing machine that is Survivor. Temple stammers her disapproval.
2. "Nobody asked me my age! Maybe I'll start tooting my horn! Maybe I'll share everything!"
Happy-slappy congratulations, Wendy, you're 48 and you look a bit younger than that, but to stutter that your Espada teammates haven't given you the chance to brag about your wrinkle-free visage? That's no reason to start on a soliloquy about your misunderstood youthfulness, and I'd have voted your ass off the island and into an AARP mixer in Sedona if I could have. This was the remark that guaranteed her eviction would be a unanimous decision.
1. "Can I say one thing? I would also like to tell the group, I think there's a lot that I think I can bring in my strength and in my leadership. I could be very friendly, very honest, very funny, fun to be with, strong-willed, strong physically. People like to be my friend, they like to be with me, they trust me, trust is important. And I don't have any blisters on my feet. That will help. Just a little thing I point out. That's about it."
Wendy Jo, first of all, that is not one thing. Secondly, Wendy Jo, you just disgraced yourself in front of your 40+-year-old teammates with nonsense about being a trustworthy chatterbox with nice feet. What? Wendy, what happened to "hiding your true self"? What happened to, uh, not announcing unfortunate qualities about yourself right before the vote? After an episode of Wendy Jo's baffling behavior, this was the icing on the cake -- or should I say, the freaky fringe on the weird cowboy shirt of the, uh, loser cowboy cake.