Distributors go on Shopping Spree at Toronto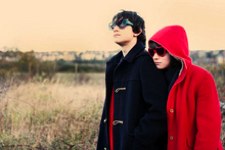 After a relatively slow start, distributors at the Toronto Film Festival have started buying films like it's pre-recession Sundance. There's something for everyone in the latest batch of acquisitions: an offbeat coming of age story, an ultra-violent serial killer movie, a 3-D cave documentary and more! Read on to see who picked up what and when you can see it.
The Film: Beautiful Boy
The Distributor: Anchor Bay Releasing
What is it? Maria Bello and Michael Sheen play a couple in a disintegrating marriage who find out that their son was the trigger man in a college shooting that ended in his own suicide. Probably not the feel good movie of the year. Check out the Movieline interview with Michael Sheen from the festival here.
Release Date: Unknown
[Deadline]
The Film: Cave of Forgotten Dreams
The Distributor: IFC Films
What is it? Werner Herzog's first foray into 3-D filmmaking explores the Chauvet-Pont-d'Arc cave in southern France, which houses the oldest known art creations of humankind. Expect to be lulled into a pleasant trance by gorgeous 3-D footage and Herzog's soothing narration. Check out Movieline's take from Toronto here.
Release Date: Unknown
[Variety]
The Film: Chawz
The Distributor: Magnet Releasing
What is it? This one's a Korean Horror-Comedy about a killer boar. I think that pretty much says it all.
Release Date: No word on date or whether this will go straight to DVD.
[Fangoria]
The Film: Insidious
The Distributor: Sony Pictures Worldwide
What is it? Saw Director James Wan returns to horror with a haunted house tale of possession, demons, creaky attics, bloody hand prints, and other things that go bump in the night.
Release Date: TBD, but guaranteed theatrical release
[Deadline]
The Film: I Saw The Devil
The Distributor: Magnet Releasing
What is it? Genre fans are flipping over this Korean thriller about a cop seeking revenge on a serial killer who murdered his pregnant wife. Apparently the film was so brutal that director Ji-woon Kim (A Tale of Two Sisters, The Good, The Bad and the Weird) had to make two rounds of cuts to avoid a restricted rating in Korea. Magnet will release his original cut.
Release Date: The First Quarter of 2011
[Fangoria]
The Film: Submarine
The Distributor: The Weinstein Company
What is it? A fifteen-year old boy plans a meticulous intervention to save his parents' marriage while also trying to lose his virginity with his love interest, a self-professed pyromaniac. Sounds like Richard Ayoade's directing debut might bring the word "quirky" back into film critic vernacular. But hey, if anyone can outdo Wes Anderson in dry, offbeat humor, it's probably the Brits. Critics and audiences have loved this one.
Release Date: Sometime in 2011
[Variety]