Buzz Break: Freida Pinto Does All Her Food Preparation Half-Dressed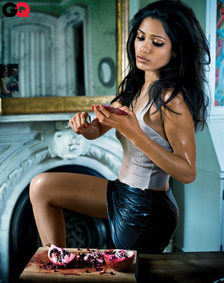 · Freida Pinto gets her Top Chef on in a new photoshoot for GQ, and while Padma Lakshmi might give her a run for her money when it comes to unlikely kitchen attire, I think even she would draw the line at oiling herself up to this extent. (Imagine Tom Colicchio's disapproving stare). Click through for a closer look and more Buzz Break.
· Don't plan on seeing Tim Curry in the Glee tribute to Rocky Horror.
· Heidi and Spencer are back together, despite the fact that Spencer looks like an albino Joaquin Phoenix from I'm Still Here.
· The long-delayed Cabin in the Woods has been pushed back yet again, thanks to MGM's troubles. I wouldn't expect it until next Halloween, frankly.
· Which celebrity most benefits from an Oprah-fying? I'd have to say it's a toss-up between Angelina Jolie and Daniel Radcliffe.