What's On: The Outlaw Jimmy Smits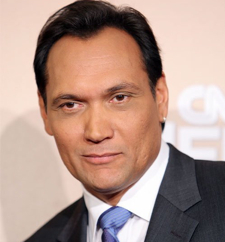 It's a big night of debuts and finales on TV tonight -- Survivor returns, Top Chef: Just Desserts rocks your palette, America's Got Talent and Big Brother conclude, and a stirring new drama called Outlaw offers Jimmy Smits (and Jesse Bradford!) a meaty role to dig into. We preview it all after the jump.
Outlaw [NBC, 10 PM]
It may be a procedural, but Outlaw's set-up is unique enough to warrant extra attention: Judge Cyrus Garza (Smits) resigns from the Supreme Court to handle controversial law cases across the country. In the debut episode, he frees a hopeless client and Jesse Bradford puts on his sho cute serious face.
America's Got Talent [NBC, 8 PM]
Prince Poppycock earned serious disapproval from judge Piers Morgan yesterday, but will that underdog energy help him outpace the fantastic Michael Grimm tonight?
Survivor: Nicaragua [CBS, 8 PM]
Former Dallas Cowboys coach Jimmy Johnson competes this season as part of the "over 40" tribe, and he'll have to beat out a tribe full of "under 30" upstarts to receive the big check from Jeff Probst at season's end. Hey, if Sandra can do it twice, why can't he reign once?
Big Brother [CBS, 9 PM]
The good people of America want Lane to win, but Hayden may just walk off with the victory in the series finale tonight. As for Enzo, we hope his clownish ways earn him a third-place finish. In fact, Movieline's own Julie Miller has threatened to "eat her tongue" if he wins. Not as alluring as a naked Sofia Vergara sprint, but we'll take it.
Top Chef: Just Desserts [Bravo, 11 PM]
Following tonight's Top Chef finale (where a sick Angelo may not be able to compete), stick around for Gail Simmons' spinoff series featuring a bunch of dessert whipper-uppers. In the first challenge, the chefs must impress famed chocolatier Jacques Torres.