The 5 Weirdest Game Show Contestants Ever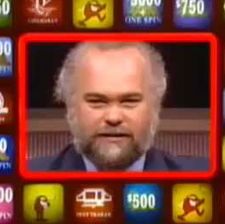 I'm still reeling from Jeopardy! champ Roger Craig's nonchalant domination and record-setting victory last night, even if I'm a little disappointed in his ho-hum demeanor. The best game show moments happen thanks to competitors with zany personality quirks, or at least some darting pupils. In tribute to the freaky fun of this wonderful genre, let us revisit the five weirdest contestants in game show history.
5. Scrabble's Terry Ray
Chuck Woolery is the Steve McQueen of game show hosts, a pillar of smooth machismo with a topaz complexion, and that's why beloved Scrabble champ Terry Ray's witty (and proudly gay!) retorts to him worked so well on the '80s show. In the first clip here, we're introduced to Terry's unpredictable nature, and in the second, we watch him throw some transparent innuendo Chuck's way, rendering the unflappable emcee speechless. Terry was cool enough for good one-liners, but he was weird enough to remain a wild card. He should be your hero.
4. Who Wants to be a Millionaire's Kevin Smith
Kevin Smith didn't act erratically per se, but everything else about his victory on the Meredith Vieira edition of Millionaire read as kooky: his biblical beard, his recollection of Regis Philbin's errors, his utter nonreaction to winning a giant hunk of change, and most of all, my eerie suspicion that he is a serious genius. Watch him as he struts off -- no, wait, sits quietly -- after earning a fortune.
Pages: 1 2