Big Bang Theory Stars Get 333% Raises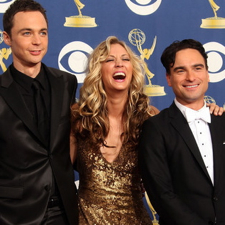 If your name is Johnny Galecki, Kaley Cuoco, or Jim Parsons... congratulations! Today, Warner Bros. TV awarded you exceptionally large bonuses for your work on the Big Bang Theory that will ensure you are each millionaires ten times over by the time the seventh season ends. And if your name is not Johnny Galecki, Kaley Cuoco, or Jim Parsons, these salary details will probably depress you. Consider yourself warned!
Here are the details from Movieline's sister site Deadline:
After almost 3 months of negotiations with series producer Warner Bros TV, Big Bang leads Johnny Galecki, Kaley Cuoco, and Jim Parsons have agreed to a major salary hike that would bring the trio's salaries to $200,000 an episode for the upcoming fourth season, up from about $60,000 last season. The salaries will rise to $250,000 in Season 5, then $300,000 in Season 6 and 350,000 in Season 7. Additionally, they will each receive .25 point of the series' lucrative backend and will be paid $1+ million as an advance against it now and another $1 million in Season 7. That effectively adds another $50,000 to their per-episode paycheck over the life of the deal.
Still not Charlie Sheen-level bank, but you're getting there. Good work, gang.
· Big Payday For The Big Bang Theory Stars