On DVD: 11 Ways to Remember the Late, Great Claude Chabrol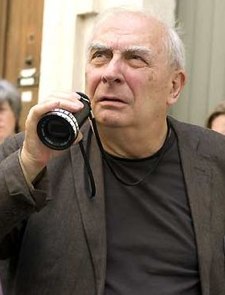 One of the great lions of the French New Wave -- and famously the most Hitchcockian of the tribe -- Claude Chabrol went the way of all flesh this weekend at the age of 80, leaving scores of must-sees behind, plenty of them on DVD. Unlike his compatriots, Chabrol got off to a slow start, and his late films are some of his best...
Les Bonnes Femmes (1960)
Classic New Wave idyll about four Parisian girlfriends having bad luck with love. The second Chabrol film starring Mrs. Chabrol, Stephane Audran, she of the full-moon eyes and Cadillac cheekbones.
Les Biches (1968)
Decadent bisexual woman seduces hippie girl, then they battle over Jean-Louis Trintignant's suave young architect. Madness and betrayal ensue. Set in Saint Tropez, fabulously.
Le Boucher (1970)
Chabrol's paradigmatic thriller, in which a small town is haunted by Ripper-style killings just as Audran's shy schoolteacher begins a relationship with the town butcher, who may or may not only cut up beef shanks.
Violette (1978)
Chabrol could rarely resist a true murder story, so this creepy, ironic procedural tracks Isabelle Huppert as the titular 18-year-old sociopath who, in 1930s Paris, rebels against her parents by murdering her father. Huppert is steely, gorgeous and irresistibly evil, and Chabrol keeps the psychodrama at a low but steady boil.
Story of Women (1988)
Chabrol's best film? Certainly his most socially charged, in telling the tale of the last woman to be guillotined in France -- for performing abortions during the Nazi occupation. The economic verities and wartime horrors are indelibly etched, and Isabelle Huppert again epitomizes an embattled womanhood under fantastic pressure.
Huppert again, taking on Flaubert, in what might be the definitive adaptation. Nobody boils under the surface like Huppert.
Betty (1992)
Based on a novel by Georges Simenon, this mystery is actually a character study wherein the deeper we wade into its heroine's psyche the darker and murkier it becomes. Marie Trintignant is a bruised, anemic barfly so desultory and self-destructive she allows herself to be whored without even charging a fee. She's taken in by Audran's hotel-dwelling mystery woman, and recounts her story -- which is an epic of social repression, exploitation and disaster.
La Ceremonie (1995)
A psychological thriller that isn't apparently a thriller until the penultimate scene. Based on a Ruth Rendell novel, the film uses a familiar modern template: A mysterious oddball enters a staid family structure, and eventually lays waste to it. Sandrine Bonnaire is the wild card, employed by an affluent family as a housekeeper and bonding with Huppert's local nutjob-cum-postal clerk, who flouts convention and bristles with contempt for the privileged class. Psychotic impulses lurk at the fringes, heading toward a bloodbath. Once someone is shown cleaning a hunting rifle, you know you're in for it.
The Color of Lies (1999)
Once a schoolgirl's raped body is discovered in the woods near a small Breton village, the quiet implosions hit a moody painter on a career downturn (Jacques Gamblin), his supportive but restless wife (Sandrine Bonnaire), and an intolerably pretentious celebrity-writer (Antoine de Caunes) on the make. But the emotional repercussions spiral out to touch the entire community. In his surest Simenonian mode, Chabrol balances the hidden, the exposed and the philosophical with little fuss, and the characters are all drawn with a scalpel -- including Valeria Bruno Tedeschi's masterfully idiosyncratic portrait of a meek-voiced-yet-fearlessly confrontational police inspector.
Another girl-gone-crazy suspenser, focused on a semi-functioning family -- responsible son (with incestuous lurkings) Benoît Magimel, high-spirited single mom Aurore Clement, bickering sisters -- before we meet the titular catalyst at a family wedding: Senta (Laura Smet), a sensuous but off-putting seductress with a mysterious past. Magimel is all pro as the chump who gets vacuumed in by this odd girl's impulsive devotions and Nietzschean delusions, but Smet, all eyelashes and butterscotch skin, is the film's prize; she doesn't act out the character's slowly revealed pathologies so much as keep them barely contained behind her mesmerizing stare, like a mad dog in a cage. Chabrol sets us up, of course, which is half the fun, and his visual storytelling remains no-nonsense.
A Girl Cut in Two (2007)
Sexpot Ludivine Sagnier is torn between two men -- one old and famous, one young and wealthy -- and in Chabrolville, triangles always lead to pathological bad news.