Australia Pays Over $1 Million to Import Oprah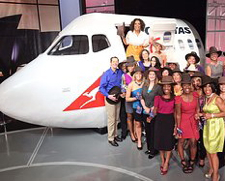 And you thought that Oprah Winfrey simply wanted to take her studio audience Down Under to celebrate her final season. As it turns out, Australia petitioned for Oprah to visit their country with an impressive, Olympics-like bid detailed below.
Oprah made the big Australia announcement during her over-the-top final season premiere yesterday as audience members wept in the aisles and an air traffic controller directed a plane driven by John Travolta onstage. Travolta, who doubles as a Qantas ambassador, took a few moments to explain the joys of flying Qantas ("Each seat is designed for maximum comfort during long travels") before Australia's minister of tourism officially invited Oprah and her "ultimate audience" to his great country.
As it turns out, Tourism Australia and the Keneally Government have been planning Oprah's venture Down Under (nicknamed Project O by NSW Tourism insiders) for several months now, according to The Daily Telegraph. Tourism Minister Jodi McKay will reportedly make an announcement today about Oprah's visit, which will cost the State Government more than $1 million in accommodation fees (for the 300 audience members and 150 people who make up the production staff and crew), a pricey bid that will keep Oprah in Australia for nearly two weeks.
After the queen of daytime shops in Melbourne and goes wine-tasting in WA, the daytime deity will tape an episode of her show from the Sydney Opera House forecourt. Aside from the 300-person audience entourage that John Travolta will fly out, native Aussies will have the chance to attend the December taping if they can beat the the Olympic Games-style ballot system.
The Daily Telegraph suggests that some of Australia's most accomplished onscreen talents -- Nicole Kidman, Hugh Jackman, Cate Blanchett, and Baz Luhrmann among them -- may make special appearances during the show, which will be broken up into two episodes when it airs in the U.S.
This adventure marks the first time that Oprah has taken her show outside of North America.
· Oprah House in Sydney as Winfrey Comes to Australia