3 Lessons Bristol Palin Can Learn From Her Email Pen Pal Kate Gosselin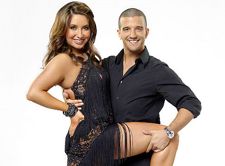 Congrats to Dancing with the Stars newcomer Bristol Palin and DWTS veteran Kate Gosselin, who've apparently struck up a mentor-protege relationship over email. Of course. Can't you picture Bristol cutely misspelling words and discussing how uncomfortable she gets when her dad brings her friends on the Skidoo, like she's in a backwoods version of Beverly Cleary's Dear Mr. Henshaw? At any rate, Palin will begin her stint on DWTS next week, and if you recall, Kate Gosselin once appeared on the same program. If Gosselin's going to matriculate young Palin, we hope she imparts the following pearls of pseudo-wisdom.
1. "Your choreography can always be more literal, Bristol. Never forget that. <3, Kate."
I hope Bristol doesn't settle for the staid paso dobles and Viennese waltzes of previous seasons. If she's serving under Gosselin's tutelage, perhaps the quail-coiffed matriarch can enlighten her in the ways of literal choreography that shares only a passing relationship with dance. Gosselin's legendary "Paparazzi" routine, where the Kate Plus 8 star "defiantly" threw around tabloids and stalked like the stage like Cthulu, is a fine starting point. Take notes, Bristol -- just ignore the judges' comments, the audience's reaction, and America's defeated sigh. I expect Bristol's debut to feature a staged childbirth set to the cha-cha-cha, and some bare-ass Playgirl posing from her partner Mark Ballas.
2. "Never smile. Smiling is weakness. I don't send three-sentence emails to weak people. Love, Kate."
If, for some reason, you don't think Kate Gosselin is the most overhyped phenomenon of the past year, perhaps we can at least agree that she's the nation's greatest scowler. With her help, Bristol can forge an impenetrable smirk that Carrie Ann Inaba can call "a little off-putting," Len Goodman can describe as "a frigid embarrassment," and Bruno Tonioli can declare "a ferocious, seductive cat! YOW-OW! But a bit of a boner-killer too. Apologies, m'lady."
3. "Dance like no one is watching. But if you can't dance, just run around and forget about your spawn for a half hour. Butterfly kisses, Kate."
Self-explanatory. I wonder if we can expect Kate herself to show up at Bergeron Ballroom to help guide Bristol from the stands. If we hear shouts of "Too poised!" or "You're not making your partner do all of the work," or "You smiling failure!" we'll know this mentorship has entered Karate Kid-level concentration.
"Bristol Palin: Secret Dancing Weapon Kate Gosselin" [PopEater]