What's On: Bachelor Pad Selects 'Winners'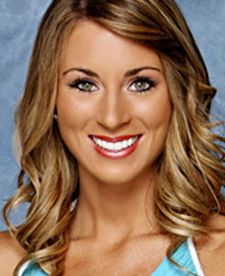 I don't how much of a winner you are when you've been forced to make out with weatherman Jonathan, but nonetheless, Bachelor Pad's season finale tonight will end with the coronation of a champion. Elsewhere on the tube, Gossip Girl returns for season four and Lie to Me ties up its second year.
Bachelor Pad [ABC, 8 PM]
Before the three remaining couples can be pared down to a single winning duo, all six combatants will compete in a Dancing with the Stars challenge where they sashay with pros from the ABC series. Take notes, Audrina. And of course, I'm psyched for anyone to win except Tenley. Most boring Bachelor contestant ever.
Gossip Girl [CW, 9 PM]
Blair and Serena attempt to enjoy Paris in the fourth season premiere, but then -- here's where it gets crazy -- Blair runs into Chuck. In France. That's the zaniness of life for you! Katie Cassidy also guest-stars as a sinister lady who gives Nate some insight into his recent hookups. Yikes.
Lie to Me [Fox, 10 PM]
Cal's camaraderie with Reynolds and the FBI is on the line when they investigate the death of his journalist pal. If that wasn't stressful enough, Cal isn't keen on Emily's newfound interest in boys.
There's Something About Mary [FX, 8 PM]
You're quite familiar with this Ben Stiller/Cameron Diaz/Matt Dillon joint, I know. But did you know that AFI ranked it the 27th funniest comedy of all time in one of its Top 100 lists? Seriously, it beat out Ghostbusters, This is Spinal Tap, and Modern Times. Come on, AFI! We want to like you.