The Mildred Pierce Trailer: Kate Winslet Moves One Step Closer to an EGOT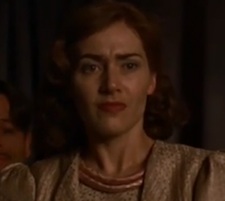 The major networks aren't going to like this one bit. HBO has unveiled the first trailer for Todd Haynes' 5-part mini-series adaptation of Mildred Pierce, starring Kate Winslet, Evan Rachel Wood and Guy Pearce, and it basically screams Emmys. Prepare to see all these people conga line up the podium during the ceremony next year... unless the awards telecast gets relegated to cable.
The Great Kate stars as the titular Mildred Pierce (the role that won Joan Crawford an Oscar in Michael Curitz's 1945 film version of James M. Cain's novel), a California housewife who struggles during the Great Depression to keep her family afloat. That means taking a job as a waitress -- much to the disgust of her spoiled daughter Veda (Wood) -- while also finding time for a wealthy lover and mustache aficionado (Pearce). Melodrama ensues, and if it feels like Haynes has nailed the tone of all this, that's probably because he has already done it before in Far From Heaven.
Winslet is a natural lock for Best Actress in a Miniseries, meaning all she needs is a Tony and Grammy to complete the EGOT. Can a stage version of Mildred Pierce, followed by a concept album be far behind?
VERDICT: Sold.