Project Runway's Casanova Talks About Tim Gunn and Defends Gretchen and Ivy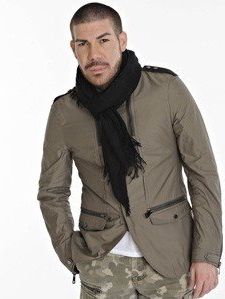 Project Runway's strangest and most endearing contestant, the unimonikered Casanova, befuddled the judges while still managing to win the greatest team challenge of all time. Movieline spoke to Casanova today about his problems making "resort wear" and what he likes about Gretchen (and even Ivy!).
On the Lifetime website, you remarked after your elimination that you thought the judges' definition of "resort wear" didn't make sense. Can you elaborate on that?
Well, well, well. My thing is I'm not much into resort wear. I never figured out what the [judges] meant. And the thing is, I'm from an island where in every corner they have a resort -- and actually, I'd worked at the Conquistador for five years, which is the biggest resort in the Caribbean. I've been working there for five years! And even on the private islands, most of the people who go to the resort -- which is so expensive, the Conquistador is -- they spend a lot of money in the casino and the fine dining with their kids in the pool. I recognize who they are. So when you ask me about resort wear, I just think a light color. I would never think of making resort wear in black because "resort" is about outdoor, and for me, black in summer -- a resort is probably in summer -- is kind of a conflict for me. So I would be thinking in no shoulders, maybe an open back. When I made my design, I was thinking of this lady who maybe would be on a private island for lunch and, right away after the lunch, she could keep wearing the same clothes. That's my point of view. So maybe that has changed? Maybe right now "resort" can be black and sexy and not as much concerned with the pool? I'm not frustrated by the end of the challenge. Even if the judges were very disappointed with my design, my design was impeccable and it was really obvious than many of the others that were safe.
Were you disappointed in what some of your fellow designers said about you onscreen? Some were snippy about your taste.
No. You know what? I'm kind of weird because, for real, I don't take things personal. When people say things about me, I really don't take it personal. I have to say that no matter what the comments, whether positive or negative, I just take the part of the comment that makes sense with the situation. I take the comment with me, I think about it, and if I realize it's not about me, I can forget about it. If I can improve myself [based on] the critique or I can make something different, I will do something different. But most of the comments they say, I don't take it personal. After some point after a lot of -- bad comment, bad comment, "bad taste" -- I was thinking, "Probably this is not my competition. Probably I don't need this competition to validate me as a designer." Because I know very well my construction and techniques. It was just something about taste -- so probably it would better if I were near Europe for a year, two years, to make the show with another point of view in my mind. It was just that.
I enjoyed your interactions with Tim Gunn, because it seemed like you were both befuddled with one another. Did you feel that way?
Yeah. You know what, I get your point of view. I have to say that I believe sometimes when he had to do my critique, "Oh my God, one more time, Casanova, let's see what happened." He was kind of uncomfortable. But at the end, no matter what, I've been mentored by Tim Gunn's advice right now, now that I'm out of the competition. I really had to think how I could improve, and I was thinking, "Is he true? Is he just being mean? He really doesn't like my aesthetic. Can I improve my aesthetic?" And many times, when the producer told me, "You should be at your station for your critique." Many times I'd be like, "I don't want to hear it. He can do it with the mannequin. Tell him he can talk to the mannequin." I knew he'd say the same thing: It's old-fashioned. He doesn't like the fabric. It's the same thing every single challenge, so you know, "You can tell him he can talk to the mannequin." But aside from the stress on the show, I appreciate his advice so much. Without the stress, I think it was a great experience. I don't know if that makes sense. Does it make sense to you?
Yes!
OK.
Who do you want to win, Casanova?
OK, well, I have some... you know, some... I don't know how to say [the word], but I really like Gretchen because I really like her as a person. I know many people think a lot of bad things about her. But she was very, very nice with me. I never had a struggle with her. She's one of my favorites. But for me, oh my Gosh, Ivy? I consider Ivy as a ninja. She's like this fighter that nobody can see. She's like, like -- she's a fighter, but no one can see her. She's like a ninja. I told her many, many times, "You're like a ninja. You kill people but no one can see you." I think she will go very, very far and surprise many, many people. And probably she will be the winner!