EXCLUSIVE: Bo Burnham on His Newly-Announced Comedy Tour and MTV Show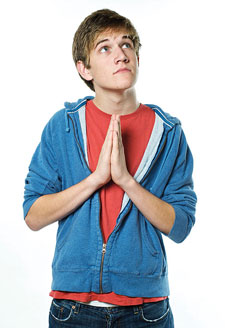 It's been a busy 15 months since Bo Burnham was featured by Movieline in The Verge, and movie roles, tours, network pilots, and Comedy Central specials have all followed. I spoke to the 20-year-old comedy songwriter just this afternoon, and he exclusively announced to Movieline his plans for a brand-new tour called Bo Burnham and (No) Friends, which starts in October, the same month as his Comedy Central special, Words, Words, Words. Burnham told Movieline what to expect from his new tour -- "weird" seems to be the answer -- discussed his new MTV pilot, and imagined a world where Yo Teach! was a reality.
So we're breaking some news today: You're announcing a new tour.
Stop the presses (laughs). I'm in New York City right now and most of the buildings came to a standstill and I wasn't sure why. I was like, "Oh, my 20-city tour must have been announced."
I'm not sure they're called "presses" on the Internet...
Oh, no. It's still men in trousers cranking large wheels with ink and all that stuff. We haven't upgraded.
How will this new tour differ from the Fake ID tour?
The Fake ID tour is me figuring out the hour I just recorded for Comedy Central, Words, Words, Words. This tour is going to be me figuring out my next hour. Luckily, as a music act, people want to see old stuff but I don't really want to do old stuff all the time, and [the tour] is sort of the best of both worlds because I can do a bit of the old stuff that the fans can enjoy, then I can start experimenting with new material. I'm working on this mixtape, this hip-hop mixtape, I'll be doing that. This tour is just going to be very strange, cray shows. They call it the Bo Burnham and (No) Friends tour because I was like, "I don't think I want any openers on this show. I'm just going to do a bunch of material, do a bunch of crazy stuff."
If you go to something like a Bruce Springsteen concert, you're going to want to hear "Born to Run" by the end of the night.
Right. And that's the thing that I've been battling with. I want to be in the moment, I want people to be laughing, I don't want it to be a sing-a-long show. Then I was like, "Hey, I'll just not have an opener, I'll do a lot of time and appease everybody and myself." [Sound of car alarm goes off in the background.]
Are you breaking into a car right now?
If danger sells, then yes. Is that what sells nowadays? I've got some new material for this tour, there's going to be some old stuff, but a lot of new. I kind of went weird on this last hour and I'm kind of going a little bit weirder. It will be fun, I want it to be like a show. I want people to see a show rather than just a little kid sitting there playing songs.
So the people who tune in for the Comedy Central special won't get exactly the material they'll see if they go to the tour?
No. [Other performers] will tour the hour, but I don't want to do that. I'm not as incredibly prolific as Louis CK and I'm definitely not doing a completely brand-new hour probably by the beginning of the tour. But people that come and see me don't necessarily want a brand new hour. But I want to give them a brand new hour, so it will be a bit of both.
You've been signed by MTV to do a pilot about a person with no talent who wants to be a celebrity. It will be interesting as episodic television, but we do already have a lot of examples of that concept in reality TV.
I think it's something that kind of needs to be addressed. First of all, people don't think their life is valuable if it's not being watched. I read about some poll that the number one answer of people who came out of high school, when asked what they wanted to be when they grew up, it was "famous."
That's not really a career.
Yeah, that's not a career at all. Being famous is complete luck and that's something you can't bank on. That's just ridiculous luck and selling your soul and everything horrible that I'm doing. It's just a show about me being a big ol' hypocrite.
You did an interview with Movieline a little over a year ago for The Verge column. Speaking of fame, do you feel you're past the verge now?
Oh, I don't know. I'm not even sure that I'm at the verge.
Wait, presses have been stopped...
[Laughs] Yeah, that's true. When they stop the presses, you might have surpassed the verge.
I want to make a statement about Yo Teach! from Funny People, which you were in. If that were actually on the air, I would watch it.
I know, I love those shows. It was brilliant and I think that thing would have killed circa 1995, ABC Family. Are you kidding me?
It would have perfect in between something like Step by Step and Sabrina the Teenage Witch.
[Laughs] Yes, exactly!