Sofia Coppola Wins Venice Film Festival While Jury President Quentin Tarantino Is Accused Of Favoritism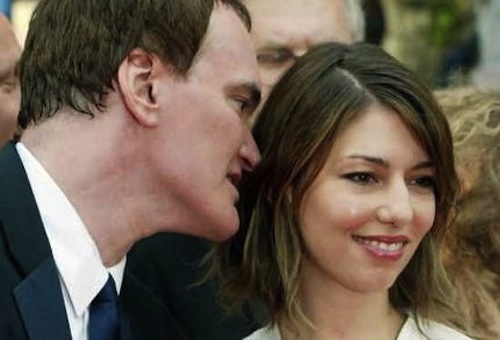 Che dramma! It's been a whirlwind of emotions for Hollywood scionette Sofia Coppola in the last few days. Her new film Somewhere underwhelmed the audiences at the Venice Film Fest -- Sad! But then she won the Golden Lion! -- Happy! And now her ex-boyfriend and jury president Quentin Tarantino has been accused of blatant favoritism by the Italian press -- Gasp!
Though Coppola's film impressed our own Stephanie Zacherek (who wrote that, just hours after watching it, I'm longing to see it again."), there were many who found her story of a Hollywood bad boy who gains a heart after connecting with his long-lost daughter unimpressive.
But now that Somewhere has won the grand tchotchke (and Tarantino mentor Monte Hellman was given a special career award), Italian newspaper Corriere della Sera has blasted the Jury, writing that "the (jury) presidency of Quentin Tarantino runs the risk of being the most obvious conflict of interest, given that Somewhere and (Hellman's) Road to Nowhere seemed charming and intriguing but nothing more."
Tarantino responded with his usual obscenity-based bombast, pointing out that it was a unanimous decision and saying
I wasn't going to let anything like that affect me at all. I was just going to literally respond to the film. There was no me steering any direction.It enchanted us from the first. Being her friend didn't affect me or make me sway the jury in any way. The other members of the jury don't know her at all. They just loved the film. We kept coming back to it, as one of us said, because "it's a great f*cking movie," all right?
Well, all right then. And below is the full list of the other great f*cking movies that won big at the Venice Film Festival.
WINNERS OF THE 67TH VENICE FILM FESTIVAL
INTERNATIONAL COMPETITION JURY
GOLDEN LION
Somewhere - Sofia Coppola (U.S.)
SILVER LION
The Last Circus "Balada triste de trompeta" - Alex de la Iglesia (Spain, France)
SPECIAL JURY PRIZE
Essential Killing - Jerzy Skolimowski (Poland, Norway, Hungary, Ireland)
ACTOR
Vincent Gallo - Essential Killing
ACTRESS
Ariane Labed - Attenberg (Greece)
MARCELLO MASTROIANNI PRIZE FOR YOUNG PERFORMER
Mila Kunis - Black Swan (U.S.)
BEST SCREENPLAY
Alex de le Iglesia - The Last Circus "Balada triste de trompeta" (Spain, France)
TECHNICAL CONTRIBUTION -- Best Cinematography
Mikhail Krichman - Silent Souls "Aleksei Fedorchenko" (Russia)
SPECIAL LION (FOR THE OVERALL BODY OF HIS WORK)
Monte Hellman (U.S.)
LUIGI DE LAURENTIIS LION OF THE FUTURE
Majority - by Seren Yuce (Turkey)
HORIZONS PRIZES
FEATURE FILM
Verano De Goliat - Nicolas Pereda (Mexico, Canada)
SPECIAL JURY PRIZE FOR FEATURE FILMS
The Forgotten Space - Noel Burch, Allan Sekula (The Netherlands, Austria)
SHORT FILM
Coming Attractions - Peter Tscherkassy (Austria)
MEDIUM LENGTH FILM
Out - Roee Rosen (Israel)
SPECIAL MENTION
Jean Gentil - Laura Guzman and Israel Cardenas (Dominican Republic, Mexico, Germany)
VENICE SHORT NOMINEE FOR THE EUROPEAN FILM AWARDS
The External World - David O'Reilly (Germany)
CONTROCAMPO ITALIANO
20 Cigarette - Aureliano Amadei (Italy)
L'Oreal Paris Prize
Vittoria Puccini (Italy)
JAEGER--LECOULTRE GLORY TO THE FILMMAKER AWARD
Mani Ratnam (India)
Persol 3-D Prize for most creative 3D film of the year
(tied) Avatar - James Cameron (U.S.)
(tied) How To Train Your Dragon - Chris Sanders and Dean Deblois (U.S.)
· Sofia Coppola's 'Somewhere' Wins Venice [Deadline]
· Tarantino Charged With Favouritism [Deadline]