Queen of Perversions Ida Blankenship Spills The Beans On Her Stint On Mad Men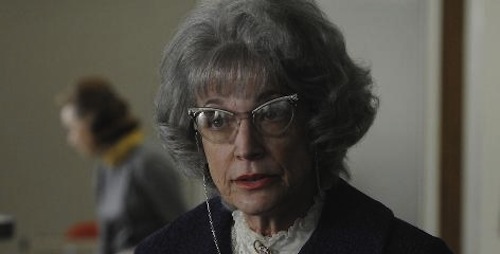 Sh*it's been dark on Mad Men these past few weeks, man. Becoming a sloppy, vomiting drunk, seeing his daughter branded a sexual deviant, losing his one solid lifeline to cancer and nearly becoming another notch in Duck Phillips' Okinawan kill list, Don Draper has really been through the wringer. But fortunately, Ida Blankenship, his be-wigged secretary played by Randee Heller, has been able to inject a little levity to the grim goings-on.
Talking to the Daily Beast, Heller reveals that she actually had removed herself from the Hollywood game after making a splash as The Karate Kid's mom and Billy Crystal's lesbian roommate on Soap. After the work dried up in the 90s, she became an ESL teacher and only recently began auditioning again, nabbing the plum part of Miss Blankenship after a few weeks.
True fans of the woman Roger Sterling dubbed "The Queen of Perversions" should have September 19 circled on their datebooks: "[That episode] is really pushing the edge," says Heller. "You think she's an old lady. All of a sudden you hear she's the slut of the week."
Wow. I hope Ralph Macchio doesn't find out that his mom is a gigantic ho.
· Mad Men's New Scene-Stealer [Daily Beast]