Philip Seymour Hoffman in Jack Goes Boating: A Definite Grooming 'Don't'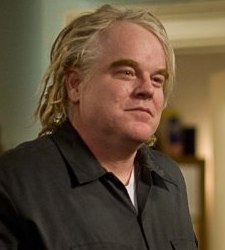 Philip Seymour Hoffman is one of my favorite contemporary actors, and he's perfectly charming in Jack Goes Boating, which is also his debut as a film director. Hoffman plays a shy, awkward New York limo driver whose friends (John Ortiz and Daphne Rubin-Vega) try to help him get his life on-track by fixing him up with an equally shy, awkward young woman played by Amy Ryan.
The movie opens on September 17, and I'll post a full review that week. But for now, I'm hung up on one angle of Hoffman's otherwise wholly satisfying performance: His character's grooming.
I know it's supposed to be a mark of bravery when an actor goes out of his or her way to be less than attractive. And I guess we're supposed to applaud the fact that in Jack Goes Boating, Hoffman is unafraid to look bad: His skin is blotchy; he schleps around in the saggiest, baggiest of pants; and his hair is a matted, dirty-blond mess (his character is a reggae fan -- he likes the music's "positive vibes").
But Jack Goes Boating -- which Bob Glaudini adapted from his own stage play -- is a essentially a romance, albeit one about two misfits. And in a romance, ideally you want to enjoy watching two people get together, instead of wondering what it must be like for the female lead to have to run her fingers through her co-star's crunchy hair. Does Hoffman have to make himself look quite so bad? He's the least vain of actors: He's looked pretty lousy -- lousy with integrity, that is -- in pictures like Synecdoche, New York and The Savages. And sometimes looking like you slept under a bridge is called for in a role.
But Hoffman goes into the red on the fleabag meter in Jack Goes Boating, and I wonder: Because he's directing himself, was he driven by some misguided impulse to downplay his own teddy-bear charisma, perhaps as a way of saying, "I may be the director, but I'm not hung up on myself"? I've always considered Hoffman to be a sexy actor, partly because of his slow-burning, crooked smile, and partly because he always seems comfortable in his skin. And the fact that he's not slick certainly counts in his favor. But for once -- again, especially, in a romance -- I'd like to see Hoffman play up his charms, instead of trying to hide them under a figurative paper bag. A comb, some soap, a belt to hold your pants up: These are the secrets to making girls like you; their power should never be underestimated.