Which Original Rocky Horror Cast Members Will Appear In Glee's Tribute Episode?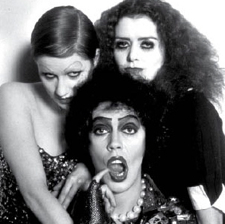 First you got a sneak peek of Sue Sylvester's tracksuit closet, then a look inside the eagerly awaited Britney Spears episode and now, dear Gleeks, you are getting another season two preview of the goings-on at McKinley High. Find out which original Rocky Horror Picture Show cast members have agreed to share the screen with Cory Monteith and Lea Michele below.
According to E!, sources close to the show have confirmed that both Meat Loaf and Barry Bostwick are set to guest star in the tribute episode, which is tentatively scheduled to air on October 26. The pair will allegedly play "TV station managers who have an 'interesting proposal' for Jane Lynch's Sue Sylvester." Original cast member Susan Sarandon also told reporters earlier this week that she would consider participating in the project.
Like the upcoming Britney Spears episode, Glee creator Ryan Murphy is slated to direct the Rocky Horror tribute.
· Exclusive: Rocky Horror Original Castmembers to Appear in Glee's Tribute Episode