Get to Know Your Ever-Growing List of Jeremy Renner Projects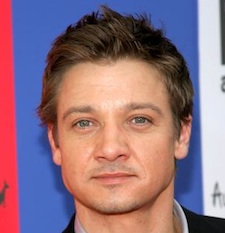 Did you hear that sound? It was Jeremy Renner's phone ringing with yet another movie offer. In the span of a year, The Hurt Locker star has gone from being a somewhat recognizable character actor to an Oscar nominee with pick of the Hollywood litter. Good for him and all, but damn -- how many projects is Renner actually going to star in? Below, Movieline flips through Renner's increasingly marked up calendar and helps you figure it all out.
Won't Happen
· Raven
· Battleship
As we found out earlier today, Renner was originally lined up to co-star with Joaquin Phoenix in Raven, but he left the film for Mission: Impossible IV. Considering that could have ended with him getting a face full of fecal matter, good move. As for Battleship, Renner passed on the ridiculous project in favor of Paul Thomas Anderson's scientology film, The Master. Better move!
Might Happen
· The Master
· By Virtue Fall
Speaking of which... The Master, which would co-star Renner and Philip Seymour Hoffman, is still on the hunt for studio backing. Fingers crossed someone takes a chance and lets Anderson make this one soon, because if he waits any longer, Renner might be too busy to appear. By Virtue Fall -- Sheldon Turner's film which is set to costar Eric Bana -- is slightly closer to reality. Voltage Pictures chief Nicolas Chartier (you might know him better as Renner's outspoken Hurt Locker producer) is in talks with his former star to replace Colin Farrell. The only hold up? Mission: Impossible IV.
Will Happen
· Mission: Impossible IV
· The Avengers
Because having just one paycheck role is sooooo 2008, Renner is following in the steps of Ryan Reynolds (Green Lantern, maybe Deadpool) and Daniel Craig (James Bond, The Girl with the Dragon Tattoo, Cowboys & Aliens) by stockpiling potential franchises. After picking up a bow-and-arrow to play Hawkeye in Marvel's highly anticipated The Avengers, he'll become the heir apparent to Tom Cruise in Brad Bird's Mission: Impossible reboot.
Should Never Happen
· Hansel and Gretel: Witch Hunters
Sure, this would also constitute a potential franchise -- right, Adam McKay? -- but something about Hansel and Gretel: Witch Hunters makes it seem too preposterous to exist. Did I say "something"? I mean, everything.