First Look: Julie Taymor's Insane Spider-Man Costume Designs
With all this talk about Marc Webb's bigscreen Spider-Man reboot, you may have forgotten that Julie Taymor is still working on her troubled Broadway adaptation of the property, Spider-Man: Turn off the Dark. After seeing her costumes, though, you'll never forget it again.
Taymor showed off the look of the supervillains (which she designed with Eiko Ishioka) today on The Early Show, and they are insane in the very best ways. That guy above is the Green Goblin (no, seriously). The picture below is of Taymor's brand-new villain Swiss Miss, and I can't wait to hear the origin story of how Grace Jones got caught in a radioactive metal shop during a freak lightning storm for that one.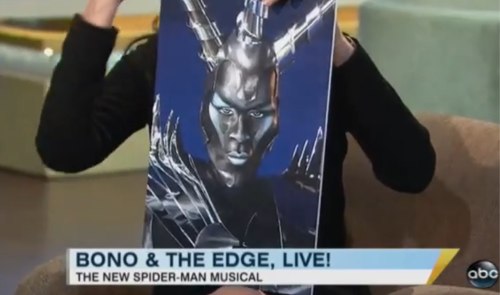 You must, must watch the entire segment, because it is amazing, and if you're anything like me, you will yelp from sheer glee at how insanely gonzo this production is (and may also realize that Julie Taymor is what you get when you mix Kathryn Bigelow, Mary-Louise Parker, and Meredith Viera in a blender -- I'd never noticed before!).
Hear the First Song From Julie Taymor's Spider-Man Broadway Musical; New Info and Costumes Revealed [Slashfilm]