Buzz Break: Ryan Gosling Puts Michelle Williams in a Romantic Half-Nelson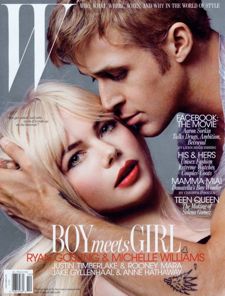 · Ryan Gosling and Michelle Williams appear on the new W cover looking like Enrique Iglesias and... a scarcely familiar face, respectively. They're promoting their new film Blue Valentine and the democratization of dreaminess and little forehead kisses. Just like FDR used to. Click through for more Buzz Break.
· Oprah's ominous OWN network just greenlit a new talk show for Sarah Ferguson. I hope Ferguson spends time calling her viewers "wootchahz" using that old-time Weight Watchers inflection I still long for.
· Director Mary Harron's Moth Diaries attracted a cast: Scott Speedman, Lily Cole, Sarah Gadon and Sarah Bolger. No American psychos lurking in this one.
· Colin Firth and Keira Knightley recorded a short film for Rupert Friend and Tim Mison's film company. I hope it's a documentary about the miraculousness of Friend's perfectly squarish jawline.
· Eddie Redmayne has been cast in the Marilyn Monroe biopic My Week With Marilyn as one of Laurence Olivier's employees. He wants to be loved by her, I assume.