Alamo Drafthouse to Unleash Four Lions and Expand Operations to NY and LA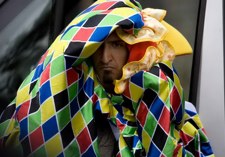 Those who insist there's no reason to see movies in the theater anymore haven't been to the Alamo Drafthouse in Austin, TX. They program the best in mainstream and cult cinema, host unique special events, and actually enforce the no-cell phone rule. And they serve beer during the film. Now, founder and CEO Tim League has announced that the company is jumping into distribution with Chris Morris' comedy about jihadists, Four Lions, and also discussed plans to build theaters in New York and Los Angeles.
It's exciting news on both fronts. League has already given a number of undiscovered films a home with his programming for the Austin theater and for the genre-centric Fantastic Fest. The fact that he chose a controversial jet-black comedy about suicide bombers for the inaugural release shows that the company won't be afraid to gamble on risky movies that other distributors won't touch. Drafthouse Films will release the movie in ten cities starting in mid-October.
Additionally, League <a href="http://www.cinematical.com/2010/09/09/tim-league-talks-drafthouse-films-building-theaters-in-ny-and-l/c
">mentioned plans to build theaters in New York and Los Angeles in the next few years. No word yet on the programming, but this could potentially fill a void for cult and genre films in both major cities. That is, if their business model of serving food and drink during the film works outside of Austin.
· Tim League Talks Drafthouse Films, Building Theaters in NY and LA[Cinematical]