The 5 Worst Project Runway Guest Judges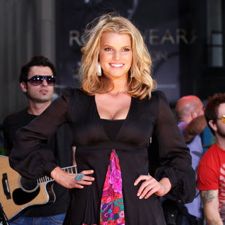 Bad news for glamour appreciators everywhere: Misbegotten Newlyweds star Jessica Simpson will guest-judge this season's Project Runway finale (Simpson checked out the contestants' collections this morning at Fashion Week). And things were going so well! Let's take this unfortunate moment to revisit the fashion design series' five worst judges in its eight-season history, taking to task all the featured panelists whose taste levels we've questioned more than Kenley Collins's.
5. Zoe Glassner (Season Six)
Unlike the other selections on this list, Marie Claire editor Zoe Glassner knows what she's talking about. She was even enjoyable during this season's auditions, letting loose quick barbs about tattered hemlines and taste levels. But during season six, when Nina Garcia decided to take a very extended vacation, Glassner's quipping potential was no substitute for Ms. Garcia's preternaturally watchable annoyance. This was a proxy whose proudest accomplishment -- during the several weeks she judged -- was the one-liner, "It looks like... a snoozefest!" Because that looks like something.
4. Tiki Barber (Season Four)
In a way, this wasn't Barber's fault. The challenge was to create a presentable menswear look for Barber on The Today Show, and that could only produce staid and expected results. But instead of choosing beautifully tailored looks from Jillian Lewis (who finished four complete separates) or a chic number from Christian Siriano, Barber ended up choosing a woefully ill-fitted shirt-and-pants ensemble from Jack Mackenroth. The shirt pockets were bigger than most billiard pockets, and the pants sported an "insane crotch" (copyright Michael Kors) of the most traumatizing order. I hope this was the reason Katie Couric jumped to CBS.
3. Nicky Hilton (Season Two)
It's telling when the right designers win and lose and still I remember the judging stint as particularly grueling. Nicky Hilton may have helped give Santino Rice the win for his braided lavender frock and sent home Guadalupe Vidal for her rumpled black number with detachable rosettes, but she couldn't have looked more apathetic if the cinematographer manually applied shadows under her tired stare. Defying not even the lowest of expectations, Hilton gave critiques like "I think you made a killer dress" and "I wouldn't wear that." Project Runway is about appreciating the zeal of creativity, and Hilton would have yawned at Jesus himself if he'd appeared right in front of her, singing hits from Mamma Mia.
2. Victoria Beckham (Season Four)
You might think that Victoria Beckham -- a celebrity whose own fashion designs have been worn by Eva Longoria and Sarah Jessica Parker -- would be the perfect finale guest judge, but not so. After picture-perfect collections from Christian Siriano, Rami Kashou, and Jillian Lewis walked the Bryant Park runway and wowed the tent, Beckham's myopia set in and she seemed to shower praise only on the collection whose aesthetic most suited her, Christian Siriano's. Though he was a deserving winner, Beckham's bias came to the fore after he won when she said she'd been a big fan of his the entire season. Not a posh (or even sporty) verdict.
1. Nancy O'Dell (Season One)
In the penultimate challenge that sent ice pixie Austin Scarlett home and sinister villain Wendy Pepper to the finale, the designers created looks for Access Hollywood host Nancy O'Dell to wear for Grammy coverage on the red carpet. O'Dell, who had given nary a word of advice regarding what she wanted to see in her finished design, came down on judges' favorite Kara Saun for even thinking to use the color pink. OK, when your job requires interaction with the Chester Cheetah charm of Pat O'Brien, you have no room to suddenly imagine you're above the color pink. Worse yet, O'Dell chose Pepper's dress based on its concept, not its execution, and the look she wore to the Emmys bore almost no resemblance to the orange, feathered thing that walked the runway.
'Project Runway' Season 8 Finale Guest Judge [Tom and Lorenzo]