Buzz Break: James Franco is Only Gay for Pay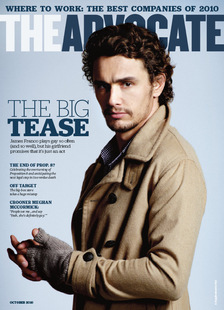 · Would James Franco tell The Advocate if he were gay or bisexual? "Sure, I'd tell you if I was," the Howl actor claims in the new issue. "I guess the reason I wouldn't is because I'd be worried that it would hurt my career. I suppose that's the reason one wouldn't do that, right? But no, that wouldn't be something that would deter me." Click through for a closer look at the cover and more Buzz Break.
· MTV is adding a new video countdown show, The Seven, which is more The Soup than TRL.
· "When I talk about my husband [Brian Austin Green], I feel as if people roll their eyes," Megan Fox tells Elle. It's like when you're 16 and order a martini, and the waiter says, 'Do you think I'm stupid?' They can't grasp that I'm old enough to be married."
· Costume designed Michael Dennison (with credits like Eat Pray Love and The Book of Eli to his name) died last week while working on the Katherine Heigl vehicle One for the Money.
· One of Jay Leno's antique cars broke down in front of a Chilis. Yes, that's where it would happen.