Your New Hobbit Got His Start on The Office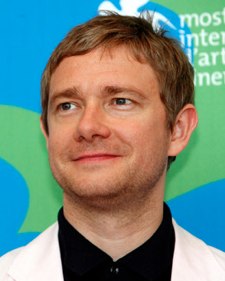 We may have a Bilbo! EW is reporting that Peter Jackson's favorite hot potato, The Hobbit, has finally selected its lead and is negotiating a deal with him as we speak. So who's the lucky actor?
That'd be Martin Freeman, best-known to U.S. audiences for playing lovesick Tim on the original British version of The Office (though if he takes his clothes off, you may be more likely to recognize him as the porn stand-in in Love Actually). Says EW of the tricky dealmaking:
The actor was already committed to shoot the BBC series Sherlock, in which he plays Dr. Watson...but according to sources close to the Hobbit production, it's not over yet. New Line and MGM, the studios backing the Hobbit films, have since come back to Freeman with a proposed schedule that would allow him to shoot both projects. All parties are currently negotiating a deal.
Godspeed, kids. Let's hope this opens the floodgates for more Office actors to join the production: Anybody need Ricky Gervais? Maybe a motion-captured Rainn Wilson? Are there any parts for an assistant regional manager from China?
'Hobbit' casting: Martin Freeman could still play Bilbo Baggins [EW]