Which 'Huge Celebrity' Invited the JetBlue Guy to the Emmys?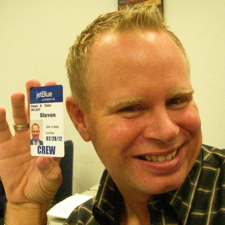 I know what you were thinking after last month's 62nd Emmy Awards: "Where the hell was that JetBlue guy Steven Slater and why wasn't he included in television's most important night?" Well, maybe you weren't thinking that but at least one star was, according to Slater's publicist.
"He was invited to go to the Emmy Awards with a huge celebrity," Howard Bragman told reporters yesterday about his client, who already has at least one reality TV offer. "It would have generated enormous amounts of publicity, and we turned it down. We knew it wasn't the right thing to do despite it being a huge media opportunity."
Do you think the show's host Jimmy Fallon invited the pop culture hero to be a part of the Glee-tastic opener? Was it tabloid opportunist Kathy Griffin, who relied on Levi Johnston as her red carpet date following his break-up with Bristol Palin? Could it have been recently inducted Emmy royalty (and the inspiration for my Halloween costume this year) Temple Grandin? Your guesses are welcome below.
· Why JetBlue Guy Skipped the Emmys [THR]