What's On: 2-4-6-8, Hellcats We Appreciate?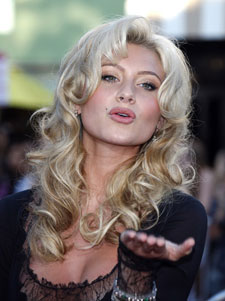 Two new shows try to woo us tonight while Top Chef starts to wind down from its Washington D.C. season. If those options aren't enough for you, celebrate the life of Brad Renfro by revisiting his best film on Lifetime.
Hellcats [CW, 9 PM]
A pre-law student (Aly Michalka) loses her scholarship and tries to get another by joining her Memphis college's cheer squad. Say what you will about this frothy new series, but at least it's less of a cliche-festooned mess than Nikita. And Ashley Tisdale! She does a mean cover of "Too Many Walls," when you get the chance.
Top Chef [Bravo, 10 PM]
In part one of the season finale, the four remaining chefs compete in Singapore. I'm glad Top Chef won this year's Outstanding Reality Competition Emmy, because this season seems too dry to pick up the trophy. You know what this means: Project Runway is in contention!
Terriers [FX, 10 PM]
Two lowbrow PIs (Donal Logue and Michael Raymond-James) search for an acquaintance's daughter. The previews for this show have been springy and likable enough to warrant further inspection here. Aw, let's do it together. Plus: Actual terriers!
The Client [Lifetime, 9 PM]
After baddies attempt to kidnap him, a cunning 11-year-old (Brad Renfro, RIP) hires a smoky detective named Reggie Love (Susan Sarandon) to protect him. Look for Mary-Louise Parker in a supporting role and Anthony LaPaglia as the hilariously villainous Barry "The Blade" Muldano in this adaptation of the John Grisham bestseller.