Emma Roberts and Directors Ryan Fleck and Anna Boden on It's Kind of a Funny Story's Unexpected Uplift
It's only a few days until this Saturday's Toronto Film Festival premiere of It's Kind of a Funny Story, and already, something feels very different for filmmakers Ryan Fleck and Anna Boden. It isn't just the assurance that Focus Features will release the film in theaters October 8 -- as Boden puts it, "It's nice to be able to go to a festival and enjoy the response to the film without that added pressure of having to sell it" -- but the realization that after making very challenging, independent movies like Half Nelson and Sugar, Boden and Fleck have turned in a third feature that could finally be their mainstream crowd-pleaser.
"We wanted to make sure that when you go to this movie, you're going to have a good time," Fleck stressed to Movieline. "You're not going to come out feeling depressed, you're going to come out feeling uplifted."
You'd be forgiven for assuming the opposite: after all, Funny Story is the tale of a depressed teenage boy who checks himself into a mental hospital, and Boden and Fleck are more known for their gritty bona fides than their funny bones. But the duo have put together a cast of comedic veterans (Zach Galifianakis, Lauren Graham) and bright up-and-comers (Keir Gilchrist, Emma Roberts), and by staying true to the semi-autobiographical novel by Ned Vizzini that the film is based on, Boden and Fleck hope audiences will spark to the material like they did when Paramount hired them to adapt it in 2006.
"It was a really fun movie about serious themes, but handled in a really light way," Fleck said. "We really responded to that, especially after making a very dramatic film like Half Nelson. It felt like we were ready to do something lighter."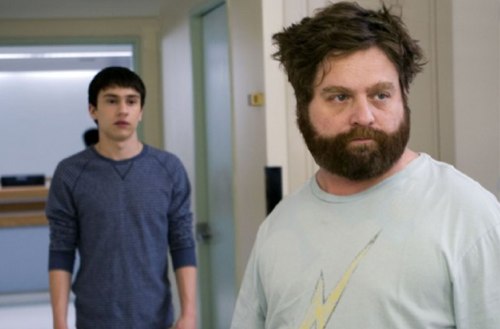 Still, says Boden, "Various loopy political things happened at Paramount and we made another movie" -- Sugar, a 2008 film about a Dominican baseball player who immigrates to the United States. Funny Story eventually found its way to Focus Features and the filmmakers started assembling their cast, including Galifianakis (who had wanted to work with Boden and Fleck since seeing Half Nelson) as a helpful mental patient and 17-year-old United States of Tara star Gilchrist as the film's central depressed teen, Craig.
Pages: 1 2