Is Piers Morgan's Larry King Live Takeover the Ellen/American Idol Snafu of 2011?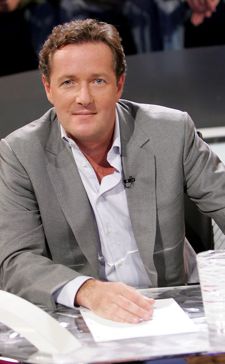 We didn't need more confirmation that Piers Morgan will take over for Larry King next year, but here we have it: Morgan and CNN have released a statement announcing that he will "fill the legendary suspenders" in January. Huzzah. While we've already coped with the fact that Morgan will say, "Hello, Tuscaloosa!" with little flair, it's time to consider whether the America's Got Talent judge's new gig will be 2011's greatest TV snafu.
Comparisons to Ellen DeGeneres's cataclysmic American Idol stint come easy: Just as DeGeneres's plucky diplomacy felt out of place on a cutthroat competition series, Morgan's stuffy displeasure is a bad fit for a softball talk show. If we're going to mix and match loose cannons and stodgy chatfests, I'd rather Wendy Williams join The McLaughlin Group or Courtney Love join the upcoming The Talk -- then we'd get fireworks.
This particular match-up just short-changes both Morgan and Larry King Live: It's not the right venue for Morgan's droll commentary, nor does he possess the inquisitive stream-of-conscious that marked Larry King's tenure. Can't you picture Piers Morgan fumbling his one-liners and ending his sentences with the same rote lip service that plagued Ellen DeGeneres's Idol critiques? I don't doubt that he's intelligent and erudite enough to ask good questions, but are those qualities befitting the kind of placating emcee we associate with King's time slot?
Like DeGeneres, Morgan is effective based on how he interacts with a live audience; just as DeGeneres delights in stirring up her audience with games and bravado (as opposed to staving them off with objective commentary, as she had to do on Idol), Morgan's monotone works when he's offsetting audience fervor with his own flippant opinion. There's a chance he could bring in a live audience for his CNN show, but that doesn't mean he can stage the kind of stalwart resistance that makes him a spectacle on America's Got Talent. He'll have to be conciliatory, which he can't achieve without sacrificing key facets of his screen persona.
Time will tell whether Morgan can exceed expectations, but for now I flinch. What do you think?
It's Official: Piers Morgan Will Take Over for Larry King in January [Deadline]