What's On: Be Good (to Rachel Zoe), Johnny Weir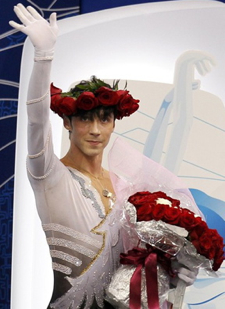 Gaga-loving ice skater Johnny Weir takes to Bravo tonight for some styling shenanigans. Will Rachel Zoe declare him "bananas" or "out of control" -- or both? Elsewhere on TV tonight, Sons of Anarchy returns, VH1 counts down some innovators, and John Travolta jive talks.
Rachel Zoe Project [Bravo, 10 PM]
Team Zoe assists figure skating superstar (and Movieline friend) Johnny Weir. Rachel also deals with a fiasco concerning an Oscar gown, and we can only hope Christoph Waltz can fit comfortably into the final product. Or Jennifer Garner or whoever.
100 Greatest Artists [VH1, 10 PM]
America's richest tradition is televised "100 Greatest" lists, and this examination of our greatest recording artists fits the bill. Unfortunately it's a terrible list. Mariah Carey and Mary J. Blige made the ranks while Carole King, Dusty Springfield, and Billie Holliday didn't. Still, prepare to learn a lot about bona fide greats like Public Enemy, Joni Mitchell, and Ray Charles tonight.
Sons of Anarchy [FX, 10 PM]
In the season three premiere, Gemma flees after Stahl frames her for Edmond Hayes's murder and seeks out her father (Hal Holbrook), who is suffering from Alzheimer's Disease. But a bigger question remains: Will the Emmys ever take notice this underrated series?
Saturday Night Fever [Cinemax, 8 PM]
John Travolta gives the performance of a lifetime (besting his Pulp Fiction role, I declare) as Tony Monero in this urban, often-dark exploration of New York's disco world. If the Bee Gees soundtrack contributions don't swing you out of this post-Labor Day malaise, surely Yvonne Ellman's glimmering "If I Can't Have You" will do the trick.