Saturday Night Live's 10 Greatest One-Season Wonders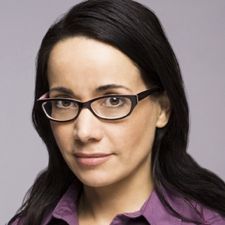 With news this morning that single-season Saturday Night Live cast member Jenny Slate may be out of a job in the fall, Movieline is taking the time to relish those who made a lasting impact with a one-year gig on Lorne Michaels' mothership. Here are ten SNL performers -- some successful and some forgotten -- who had only one season to shine.
10. Morwenna Banks
There have been cast members who served shorter tenures (Laurie Metcalf, for example, was only a cast member during the final episode of the '80-'81 season), but Morwenna Banks represents the woebegone featured players who are forever enshrouded in intrigue. As a cast member for four episodes in 1995, British-born Banks was the most impermanent addition during SNL's most tumultuous season -- in fact, Don Pardo's anguished pronunciation of "Morweena" may have been more memorable than anything Banks actually got to do. In recent years she has developed her talents as a voice actress and released a series of web videos for BBC Comedy where she impersonates the likes of Lady Gaga, Susan Boyle, and Noel Gallagher.
9. Michael McKean
No one was a stranger part of the joyless bacchanal that was SNL's '94-'95 season than Michael McKean, one of comedy's most established veterans (with Laverne & Shirley and This is Spinal Tap in his extensive list of credits). He remains the only person to serve as an SNL musical guest and host before beginning a tenure as a cast member, but he'd go on to rebound as a fixture in Christopher Guest's coterie and as a Celebrity Jeopardy! grand champion.
8. Casey Wilson
Female cast members are notorious for their one-season runs, but '08-'09 cast member Casey Wilson was one of the first cast members to receive her walking papers in the era of Funny Or Die. And we're more enlightened thanks to it!
7. Joan Cusack
Two-time Academy Award nominee Joan Cusack joined SNL's cast during Lorne Michaels' return season in 1985, and she even worked up a couple signature characters including "Salena," an awkward girlfriend to Jon Lovitz's "Biff," and Brooke Shields. Though her run on the show ended in 1986, it took Cusack almost no time at all to land a significant role in one of the decade's defining comedies, Broadcast News.
6. Gilbert Gottfried
The beloved comedian barely earned screen time during his '80-'81 stint, and he rarely employed the loud, wheezy voice that became his trademark. He once claimed that his lowest point was when he was forced to play a corpse in a sketch, and I assume he used the resentment from this season to fuel his masterful vocal performance as Iago in Aladdin.
Pages: 1 2