Late Night Highlights: Craig Ferguson Works on Labor Day, Advises Viewers on S&M Fashion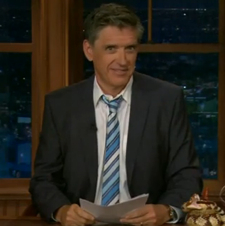 Maybe it's because he is an immigrant and didn't know any better -- maybe it's because he is just dedicated -- but Craig Ferguson was the lone late night host to show up to work on Labor Day. See how he and his robot sidekick Geoff entertained viewers (with puppets, yesterday's TV stars and bondage fashion advice aplenty!) below.
3. Interspecies Puppet Affair
While the rest of his late night peers were taking the night off, Craig Ferguson worked double-time during a very special holiday cold open.