Jean-Luc Godard Drives a Hyundai, Doesn't Want Your Half-Assed Oscar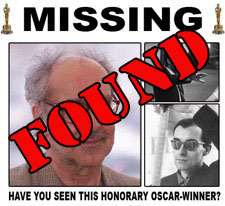 Hey, check it out! Someone found eminent (and eminently elusive) French master Jean-Luc Godard! That only took a week and a freaking half, and there he was in his adopted home of Switzerland the whole time. All anyone had to do was look for his... Hyundai? Oh -- and prepare for the worst.
The choice in automobiles must be taken in context; they do imports differently in Switzerland (obviously), and let's face it: If you didn't want to be spotted, you'd probably drive the same thing. But there he was in Rolle, tracked down by a journalist for The Australian who simply wanted to know if the 79-year-old French New Wave kingpin had heard about his honorary Oscar win and/or if he planned to accept the prize this fall in Hollywood:
"I got the letter" [...] Godard says nothing more except "Thank you" as he strides towards a two-storey pink cottage he rents from the local greengrocer on a quiet, leafy street in the picturesque village of Rolle, not far from Geneva.
It is left to Anne-Marie Mieville, his partner in life and in work, to explain his feelings about the honour, which is also due to be bestowed on veteran American actor Eli Wallach, and British film historian Kevin Brownlow, at a ceremony in November.
"He just told me, 'It's not the Oscars,'" she says, referring to his reaction on learning about the award. "At first he thought it was going to be part of the same ceremony, then he realised it was a separate thing in November."
Not that it would make any difference. "Jean-Luc won't go to America, he's getting old for that kind of thing. Would you go all that way just for a bit of metal?"
Ah. You mean, it's a bit of metal he would have to collect this year at the Governors Awards as opposed to next year at the actual Oscars. Cheeky! That bit of metal is worth more than his car, lady.
Anyway, I love this. Let's push it, Academy: Offer to give him his award next spring, just to see if he's getting old for that kind of thing? And anyway, what's an extra five minutes for the guy who made a fistful of the most important films ever? Maybe just plug Godard into the unofficial Pixar spot, and let those guys collect their Animated Feature Oscar for Toy Story 3 in November. We have options. What are some others?
· Jean-Luc Godard to be an Oscar no-show [The Australian via Hollywood Elsewhere]