Help Movieline Caption John Travolta's Wand-Wielding Harry Potter Interlude
I know it's probably a little hard for you to get going this morning after your three-day farewell to summer, but admit it: It's nice to have finally made it out of that awful season's news wasteland and into a richer, more dynamic atmosphere of breaking developments and heavy-hitting trends. Take John Travolta and Kelly Preston's recent trip to The Wizarding World of Harry Potter in Orlando. No, really -- take it. I don't want it.
You don't give up very easily, do you, summer? Anyway, this trip apparently happened over the weekend, accompanied by a very necessary press release and photo op. It's your problem now; I'm going back to bed.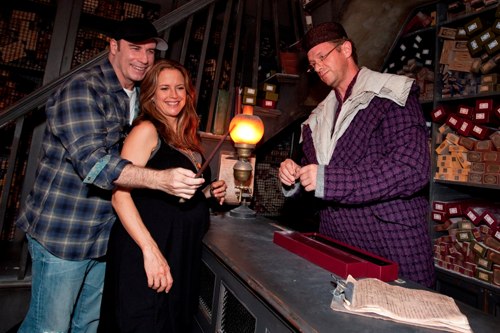 [Photo: Matt Stroshane, Universal Orlando Resort]