Buzz Break: Taylor Kitsch is No Longer Your Long-Haired Samson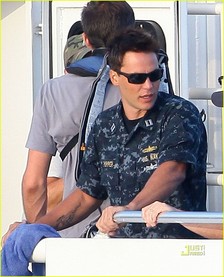 · The braintrust behind Battleship has already made some interesting choices (like casting Rihanna as a tough naval officer), but this may trump them all: Taylor Kitsch has been forced to cut his hair. That just ain't right. Click through for a closer look and more Buzz Break.
· Oprah Winfrey sounds kind of aggrieved to be a Kennedy Center honoree. "I love surprising people, I don't like being surprised," she told the AP. "Releasing any kind of control over a show and allowing myself to sit there and be surprised is not going to be easy but I'm willing to do that."
· AMC has exclusive rights to The Godfather and its sequels into 2019.
· Norm MacDonald had really, really weird plans in store for his long-canceled Fox sitcom A Minute with Stan Hooper: The plan was to subvert [the sitcom archetype] gradually, but it was never given the chance," MacDonald told the NYT. "At the end of the first season the wife was going to be murdered by a drifter.
· Betty White is getting her own comic book. Her superpower is ubiquity!